REWIND
REVIEW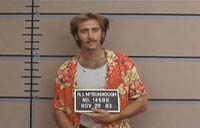 Starring
Nicolas Cage, Holly Hunter, John Goodman, Trey Wilson
The shot in which the camera moves in on Florence Arizona discovering that Nathan Jr. is gone is a direct homage to The Evil Dead (1982), a film on which Joel Coen was an editor.
More Trivia from Raising Arizona
Review
Repeat convenience store robber H.I. McDonnough (call him 'Hi') falls in love with no-nonsense, thrice-decorated Officer Edwina ('Ed') and the unlikely pair marry.

As Ed says, "the next logical step is to bring a critter into the world" and the couple aim to conceive a child. As biology (Ed is infertile) and the prejudices of others (the couple cannot adopt due to Hi's 'checkered past'), conspire against the pair, news breaks of local furniture mogul Nathan Arizona's (Wilson) 'baby jackpot' ...his wife Florence has just had quintuplets.

As Hi narrates to the audience, the couple "felt it unfair that some should have so many, while others have so few." The pair figure that the recent parents of five have 'more than they can handle' and Hi and Ed plan to relieve them of one of the babies... by kidnapping him. Young Nathan, Jr. completes the McDonnough's nuclear family, or at least the closest approximation.

Add to the mix Hi's less-than-bright prison buddies, brothers Gale (Goodman) and Evelle (Forsythe), who have just escaped from the Maricopa County Maximum Security Facility. Typical to form, the brothers are hatching a scheme for 'the score of the century' and despite Hi's penchant for convenience stores, the pair are looking to recruit Hi as their third man.

Hi's foreman Glen (McMurray) and wife Dot (McDormand) pay Hi and Ed (and 'Junior') a visit, with their own kids [from Hell!] in tow. Hi and Glen get to talking about married life, family and the trials and tribulations of settling down. Glen advises Hi to keep an open mind, as Glen suggests joining he and Dot in a round of wife-swapping. Hi breaks Glen's nose and while Glen's kids find this hilarious, Hi ends up jobless.

To new 'father' and recently fired sheet metal worker Hi, Gale and Evelle's scheme is looking better by the moment. By this time, Dot and Glen have put two and two together and know the baby's real identity and since Dot wants something new to cuddle, Glen issues Hi an ultimatum to pay Glen's doctor bills and turn the baby over to him, or face charges.

After the most notorious run for Huggies in film history, Ed lays down the law and gives the jailbirds about twelve hours to clear out. With so much time on their hands, the brothers have caught the news and also managed to figure out just who Hi and Ed's little 'Junior' is, so they're in for the reward, the audience first believes. The pair find they actually love Nathan, Jr., and decide to kidnap him from his kidnappers.

Meanwhile, Nathan Arizona, Senior receives a visit from low-life 'tracker' Leonard Smalls (Cobb), who offers to retrieve the child and return him to his father, provided Mr. Arizona's the highest bidder.

Be it for love or money, the race is on to get Nathan, Jr.
Author:
Kimberley A. Wren
Update This Review
Verdict
This film is an all-time classic...period. It is suitable for all ages, without a great deal of profanity, violence, or sexuality. Cage, Hunter, and Goodman are outstanding in their quirkiness.

Joel and Ethan Coen deliver excellence here, in their contrast between the basest humor, and a highly complex storyline.

'Raising Arizona' is packed with greater jokes than any comedy one can imagine.
Hilarious story, colorful characters.

Some of H.I.'s narration is a bit hard to follow from time to time.
Rewind Rating
The Movie Data
Jump To: Music & Soundtrack Vibes
Or use the menu to navigate
1987 20th Century Fox
1999-2020 fast-rewind.com
V4_27 Powered by Rewind C21 CMS