REWIND
REVIEW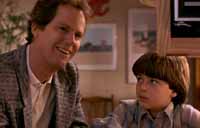 Starring
Cliff De Young, Roxanne Hart, Joseph Lawrence, Matthew Lawrence
Review
The 80s certainly had its fair share of thriller and suspense films, but Pulse was definitely an original one. To this day, there have been few movies offering such originality and suspense.

Pulse is one of those movies which just might, when you've finished watching it, leave you worried and shaking, thinking that perhaps we are a little too reliant on the conveniences of modern-day living and also perhaps how helpless we would be if these conveniences didn't function the way we wanted them to.

You might never look at your television, shower or electrical appliances the same way again.



Perhaps what makes Pulse so effective is its refusal to give any explicit details. Never at any point in the film are we given an explanation as to why these terrible things are occurring – there is a hint that perhaps it is related to the heavens or some form of alien force, but this is left to the audience to ponder.

The movie begins with a view of the local electricity station which suddenly gets zapped by a bolt of lightning. As the opening credits roll through the screen, we are treated to different angles of the power generator, while it's making some eerie noises, possibly indicating that the electricity may not be behaving as it should.

That same night, Bill (played by Cliff De Young) and his wife Ellen (played by Roxanne Hart, better known for her role in Highlander as Brenda Wyatt) are woken up in the middle of the night by some crashing and screaming noises coming from across the road. Upon closer inspection, it appears that Mr. Jordan, their neighbour, has gone crazy and started breaking his house up. Before anyone can investigate further, he gets zapped by stepping in a puddle of electrified water. When the police arrive to investigate, the entire house has been practically destroyed, as if Mr. Jordan was willingly trying to demolish his own house.

Some time later, young David (played by Mathew Lawrence) arrives to spend the summer break with his dad Bill and new stepmother Ellen. After the usual "maybe you should get back with mum" talk, David begins to notice strange things happening in the house. Small things at first, like the television shorting out, the heater turning on by itself and appliances making weird noises.

Things get stranger and more sinister as time goes on – soon there are explosions, cracked gas pipes and lethal fire traps. In one terrifying scene, Ellen is taking a shower and the hot water system automatically turns to maximum power and almost cooks her alive.

By the time David has convinced his Dad that the electricity has gone berserk and is trying to kill them, they're both fighting for their lives trying to get out of the house in one piece. They are faced with live wires, water traps, flying flames and explosions – you can rest assured that by the time the final climax is over, you'll be clenched to your seat.

Kill your television.
Author:
Steve
Update This Review
Verdict
A quiet achiever -- Pulse is a cult classic and is highly recommended for lovers of the genre. The shower scene where Roxanne Hart almost gets cooked alive still makes me shiver with fear to this day.

This movie is usually hard to find at your local video store. Try using our unique search feature. If you are lucky enough to find it anywhere, do yourself a favour and hire or buy it -- you'll have a blast -or perhaps "shock" is the more appropriate term! ;)
Original and truly terrifying. Will leave you wondering about whether you should have so many appliances in your house.

The acting can be a little weak in places. Otherwise, great flick.
Rewind Rating
The Movie Data
Jump To: Music & Soundtrack Vibes
Or use the menu to navigate
1988 Columbia Tristar Pictures
1999-2020 fast-rewind.com
V4_27 Powered by Rewind C21 CMS