REWIND
REVIEW

"
Blane's a pretty cool guy. Andie's pretty in pink. And Duckie's pretty crazy.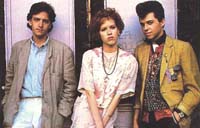 Starring
Molly Ringwald, Harry Dean Stanton, Jon Cryer, Annie Potts
Early Appearances
See Gina Gershon before they were famous!
Cameos
Look for Kristy Swanson, Dweezil Zappa making a cameo appearance!
Review
Andie Walsh (MOLLY RINGWALD) is a poor girl from the wrong side of the tracks with an obsession for pink paraphenalia. She lives (literally on the wrong side of the tracks) with her unemployed father, Jack (HARRY DEAN STANTON). Most of the time she works in a record store called 'Trax' for her eccentric friend Iona (ANNIE POTTS), a 30-something mother-figure to Andie who sports a variety of radical hairstyles throughout the movie.

Andie attends a typical John Hughes High School where a lot of the kids are 'richies.' She has befriended a good-hearted geek named Duckie Dale (JON CRYER) who is the saving grace of the film.

Between encouraging her depressed father to find a job, she nurtures her crush on a wealthy kid named Blane McDonough (ANDREW MCCARTHY).

"Blane?!? His name is Blane? Oh! Gah! That's a major appliance, that's not a name!"

Soon enough, a picture of Blane appears on her computer screen. Andie stands up and looks around. Blane stands up from the terminal across from hers. Love blossoms.

Blane's friend Steff McKee (JAMES SPADER) is the sinister bad-guy who roams the halls of the school in a white suit looking more like a 25-year old Record Executive than a student. He has tried his charms with Andie in the past and failed. He tells Blane that he can't believe his best friend is interested in a "mutant" like Andie.

Duckie, however, digs the mutant and worries about how to tell Andie he is in love with her. Perhaps the best scene in the movie occurs at 'Trax' while Andie and Iona wait for Blane to arrive. Iona puts on 'Try a Little Tenderness' by Otis Redding. Duckie enters and lip-syncs to the song. Some might argue that Jon Cryer has always been the poor man's Matthew Broderick and though this is not as joyous a scene as the 'Chicago Street Parade' in Ferris Bueller's Day Off, Cryer does well within the confines of a mostly sentimental teen flick.

Blane takes Andie to a friend's party. Andie thinks his superficial 'richie' friends won't accept her. She'd be right then! Everyone is drunk and they react badly to Andie's presence. Steff is there with his girlfriend, Benny. She is awful to Andie and the two leave. She asks Blane to drop her off at Trax. Growing increasingly upset, Andie finally admits that she doesn't want him to see where she lives. Blane drives Andie home anyway. He asks her to the prom. Andie accepts and kisses him.

Swayed by Steff, Blane lets the relationship stall. Andie goes to school determined to talk to Blane. She corners him in the hall and asks him about the prom. He tells her that he already asked someone else to go. Andie goes ballistic and tells him to admit that he doesn't think she is good enough for him. Teachers and students come out of the classrooms to see what is going on. Andie finally runs away.

Steff is triumphant in the hallway, so Duckie attacks him and kicks his smarmy ass! Thank God.

At the Prom, Andie and Duckie arrive together. Blane approaches them and shakes hands with Duckie. He apologizes to Andie and tells her that he always believed in her, but he didn't believe in himself. He kisses her on the cheek and leaves. Duckie sees that old Blane ain't such a bad guy and encourages Andie to go after him. Duckie notices a girl smiling in his direction and slides toward her. Meanwhile, outside, Andie catches up with Blane. They kiss.

DVD News: Pretty in Pink is now released on DVD. Don't miss it!
Author:
Simon Barber
Update This Review
Verdict
"Pretty in Pink" is a sentimental teen drama with an occasional sprinkling of humour to keep it motoring along. The movie was written by John Hughes who refills the "Sixteen Candles" mold with the premise that Ringwald has a crush on a Senior and hangs with the class geek. Ringwald is strong in the role as usual and projects genuine teenage turmoil through her sultry pout. James Spader, as the movie's rogue seems too mature for the proceedings, but condescends beautifully: "Money really means nothing to me. Do you think I'd treat my parents' house this way if it did?"

Andrew McCarthy is always watchable. With his mouth poised throughout in a mild oval of faint surprise, he tends to give the impression that he's not quite sure what's going on.

John Cryer fills Anthony Michael-Hall's shoes with adequate amounts of awkwardness and dry wit. Don't expect vintage Hughes, but necessary viewing for any Brat Pack completist.

Verdict: Pink, pouting Ringwald in a John Hughes movie. Nostalgia!
Good performances from Molly Ringwald and John Cryer.
Catastrophic 80's wardrobe.
John Hughes teen vibe.

James Spader's age!
Script not as snappy as previous Hughes outings.
Soundtrack has only a few standout cuts.
Rewind Rating
The Movie Data
Jump To: Music & Soundtrack Vibes
Or use the menu to navigate
1986 Paramount Pictures
1999-2020 fast-rewind.com
V4_27 Powered by Rewind C21 CMS