REWIND
REVIEW

Planes, Trains and Automobiles
"
Steve Martin had no reason to panic... Until John Candy came along.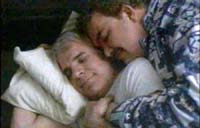 Starring
Steve Martin, John Candy, Laila Robins, Dylan Baker
Cameos
Look for Kevin Bacon, Michael McKean, Ben Stein making a cameo appearance!
Review
"You're messin' with the wrong guy!" and "I can take anything" are a couple of the many memorable catchphrases from John Hughes' hit comedy Planes Trains & Automobiles. The movie stars Steve Martin as Neal Page, currently working in New York, whose sole thought is getting back home to spend Thanksgiving with his family in Chicago. Instead, he gets three days on the road with the turkey, a turkey named Del Griffith (John Candy).

The two first meet when Del inadvertantly steals Neal's cab and Neal has to get the bus out to the airport. He meets up with Del again and winds up sat next to him when the airline accidentally bump him down from First to Coach. Del proves himself obnoxious on the plane by talking too much and taking his shoes and socks off because 'Boy, those dogs are barking today!'. As Del predicted, bad weather forces the already delayed plane to divert to Wichita. By the time Neal realises he's going nowhere, all the hotels are booked and he's forced to accept sharing a room with Del - one bed, one set of towels in the bathroom and one theft of cash during the night. They awake, a little too close for comfort and work on how they are going to get to Chicago.

Del, of course, has a 'good friend' that works on the railroad and so they catch a ride with the friend's son, complete with snarling dog, down-trodden wife and kids and finally catch the train to Chicago. But halfway there, the train breaks down, leaving them stranded again.

Their next transportation is the bus, but their tickets are only good to St Louis and on arrival, Neal decides to get out on his own and rents a car. But when he gets out to the lot, it's not there and so he trudges back across the freeway and a runway to the rental counter, only to be met once more by Del, who actually managed to get a car.

Things appear to be working out, but with Del at the wheel, something's bound to go wrong - cue the car spinning out of control, driving off the wrong way down the freeway, scraping between two oncoming trucks, and then bursting into flames, taking Neal's wallet and credit cards with it. So another night in a cheap motel is called for....

Will Neal and Del ever make it to Chicago - in peace and on time?
Author:
Philip Martin
Update This Review
Verdict
Despite the four-letter words, Planes, Trains and Automobiles is loaded with laughs and is also a fun family movie.

Planes, Trains and Automobiles was one of the most successful movies of the careers of Steve Martin, John Candy and director John Hughes.
Very funny, with excellent cameos by Kevin Bacon, Michael McKean and Ben Stein.

Nothing really, unless you're offended by four-letter words.
Rewind Rating
The Movie Data
Jump To: Music & Soundtrack Vibes
Or use the menu to navigate
1987 Paramount Pictures
1999-2020 fast-rewind.com
V4_27 Powered by Rewind C21 CMS