REWIND
REVIEW

"
Jolly your Roger, Buckle your Swash, and have a very Happy Ending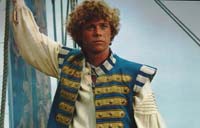 Starring
Kristy McNichol, Christopher Atkins, Ted Hamilton, Bill Kerr
Chuck McKinney, Maggie Kirkpatrick, Garry McDonald, Marc Colombani, Linda Nagle, Kate Ferguson, Rhonda Burchmore, Cathrine Lynch Update Cast
Review
Ahh yes... Pirates.

Sexy beasts they are! And fun! So fun that a little seaside town dedicates a pirate celebration that seems to mostly be attended by sleek women in bikinis.

Mabel is small, scrawny in build and hangs out with a crew of beautiful, but snobbish girls. She is often laughed at and teased -even by the groups token chubby friend. She appears pretty pathetic.

At the yearly pirate carnival affair, Mabel attracts the attention of "Frederic" (you actually never quite get his real name until the end of the movie, however during the whole film, this is what Mabel calls him). A swashbuckling swordsman demonstrator, he uses her in a demonstration of a duel.

Seeing how her "friends" laugh at her, he asks her to come for a boat ride and dig up some treasure -she can "bring along some friends" if she wants.

So the Bikini Guild suddenly shows interest in her and they end up taking lunch, the guy and the boat -leaving poor Mabel on the docks. Sad, but determined, Mabel rents a boat to go out to catch up with them, get's knocked off and washed ashore of the island. Then she dreams...

On the Pirate King's vessel, Frederic has reached the age of 21-meaning he is a full fledged pirate and can go off on his own if he wishes. Frederic explains that he wants to dedicate his life to destroying all pirates, seeing as the only reason he is one, is because long ago, when the Pirate King attacked his parents ship, he trapped them and set it on fire. Frederic's mother hurled the infant babe to The Pirate King, who, for all his viciousness, took the child in because he was now an orphan.

Apparently, a rule of pirates is they can never kill an orphan.

Seeing as it appears his ambition is to kill all pirates, the Pirate King decides to send him off on his way in a small boat (remember they don't want to kill him). Ruth, the ships wench visits Frederic on the boat and he asks about girls, wondering if Ruth is the epitome of what a woman looks like (thankfully for him, she isn't!)

He sees land ashore and viewing through a telescope, sees girls -lots of them, dancing about the shore having a frolicking good day at the beach. So he swims ashore.

On shore, we meet the daughters of a Major General-all prissy, prude and obnoixous -excepting Mabel, the free-spirited youngest daughter. Mabel wants adventure, excitement and true love. Unfortunately, she can't get married until all of her older sisters do -as per tradition and with the way they act, this isn't happening anytime soon.

She dreams of love as her sisters dream of being as proper and pure.

Frederic swims ashore and the girls are afraid and flee. He turns and sees Mabel and it's love at first sight.

Add in the Pirate King and company coming ashore, traditions, complications, the ramifications of having a birthday on February 29th, plenty of funk-a-delic weird 80's showtunes, fun sword duels and you've got yerself a Pirate Movie...
Author:
Christine Peterson
Update This Review
Verdict
The music isn't all that great, on the level of about Grease 2, however the story-which is based on the classic Pirates of Penzance is funny and cute. Somewhat dated, but a great rainy day or feel good movie.
Funny writing, cute situations, great cheesy fun

Too camp for some -and some of the songs are pretty awful!
Rewind Rating
The Movie Data
Jump To: Music & Soundtrack Vibes
Or use the menu to navigate
1982 20th Century Fox
1999-2020 fast-rewind.com
V4_27 Powered by Rewind C21 CMS