REWIND
REVIEW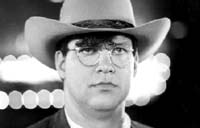 Starring
Penn Jillette, Teller, Caitlin Clarke, David Patrick Kelly
Review
Death... It's a subject everybody thinks about at least once a day.

Some people shrug it off, while others love the suspense. This twisted movie takes a fascination with death and turns it on its head.

Penn & Teller play themselves and the movie opens with a performance on a show called "Weekend Live". The audience is going crazy over their act and lots of people are tuning in ("Pretty In Pink" star Jon Cryer makes a cameo appearance as a frat boy watching the duo on TV). When the act ends, everyone's favorite punk rock illusionists talk with Bob (Ted Neudstat), the show's host. Petty insults are exchanged and talk is made of various things, including the lies of psychic surgeons. Penn says something out of the ordinary (for us, anyway... this is everyday talk for Penn & Teller) during the conversation...

"You know what I'd like? You know what would be great? I wish...somebody were trying to kill me. Wouldn't that be great? It would give focus to your life! Excitement! You'd be like James Bond or something...all that secret agent stuff. I'd love to go see that new French film tonight, dear, but someone is trying to kill me." This delights everybody, with the exception of their manager and Penn's girlfriend Carlotta (Clarke), who merely rolls her eyes, wondering what she did to get into a relationship with these guys.

Right from an airport, people are out for Penn's blood, like a religion freak (Christopher Durang) with a gun in his bible. Teller, interested in the whole thing, starts playing around with Penn and making his life dangerous. One example: Rolling a metal ball through a metal detector that Penn enters, until he explodes at an innocent guard. Penn, seeing what the deal is, plays along when, at the same airport, he cuffs Teller's fingers together and hands him a toy gun. Deciding that the airport isn't for the duo, Carlotta takes them to Atlantic City via car. They continue to make life freakish for each other, tossing coins at each other near slot machines and Penn screaming of a Communist revolution in a casino.

At a Mexican restaurant, Penn and Carlotta have dinner, with Penn trying to convince her that her father will be in for nothing but a scam if he goes through with psychic surgery he wants. To prove his point, the next day, he and Teller demonstrate psychic surgery (or, more accurately, its frauds) to Carlotta's father. When the truth (which involves pig guts) is revealed, Carlotta's uncle delivers a brilliant line about not going through with the surgery. Little does Penn know that something is being lined up just for him...

While working on a trick with Carlotta, Penn & Teller are abducted by thugs who purportedly work for a major psychic surgeon. In a dark lab, Penn tries to convince Teller to talk about where they are. Their surgeon has trouble pronouncing certain letters and this leads Penn on an insane rant where he quotes Don McLean and The Rolling Stones. The abduction is revealed to be a ruse by Carlotta's father, with Teller and Carlotta in on the joke all along. This annoys Penn to the point where he starts blowing up at the two of them with great frequency.

Continuing with their gory tricks on display at Trump Plaza, Teller is seemingly drilled to death. All a fake, of course, but it has the audience saying to Penn "I THOUGHT YOU WERE THE ONE WHO WANTED TO GET KILLED!" Sure as sunshine, someone shoots at the duo and Carlotta from a billboard. Complaining about getting clipped, Penn is chastised by a foul-mouthed old woman for making his proclamation.

The man who launched the shot is revealed to be a quirky fellow (and I mean that in the worst sense of the word) known simply as The Fan (Kelly). He's duplicated Penn's look down to the black hair and painted fingernail. Teller tracks the fan up and down the Atlantic City boardwalk to get a better look at him.

Back in their dressing room, Penn confronts Teller about whether he's behind the murder attempts. When shots are fired into the room, Penn realizes that someone is indeed out for him. About this time, we fade into a fantasy sequence, with Penn the chain-smoking and paranoid young fellow and Teller practicing ninja moves. They're interrupted by police officer MacNamara (Clarke again), who has been assigned to protect the duo. She seems to be Penn's match in every way... she likes soda, junk food and listening to the Velvet Underground while watching "The Three Stooges". The finer things in life...

Having been told to leave and have some fun, Teller takes in a "Stooges" film festival and then decides to buy a gun. Why would he, being as they don't want him dead? The next day, after demonstrating a trick to MacNamara, they visit the would-be killer's apartment, where they're treated to a Penn & Teller shrine and a video with rap rhythms and clips of Penn & Teller throughout their career. Parting ways, the killer is actually still on the loose, knifing Penn in the stomach and driving away. MacNamara is of no help, just driving off and ignoring Teller. Chasing the Fan on a motor scooter, Teller follows him to his apartment, where he ends up as a hostage.

Having ditched his gun in the apartment earlier, he makes another attempt to grab at it. MacNamara busts into the apartment, but only to reveal that she hired the fan to kill Penn. Teller, having grabbed the gun, tries to kill MacNamara, but instead kills...Penn.

The title of the movie IS "Penn & Teller Get Killed" and now it's half-completed. MacNamara reveals herself to be Carlotta, but of course. Thinking it's all a joke, she starts cursing and crying when it turns out Penn is dead. Teller is so troubled, he turns the gun on himself.

With him gone, the circle of suicide expands. It basically takes the idea of being the center of the universe, and drags it to its only logical conclusion. Penn gets killed...Teller gets killed... Carlotta gets killed...the Fan gets killed.

It's a bleak but funny conclusion to a bleak but funny movie.
Author:
John Edward Kilduff
Update This Review
Verdict
Penn & Teller are two of the best magicians out there. They've been unveiling magic secrets since Fox's Masked Magician was flipping burgers.

To give them a movie would seem at first to be a poor idea (what can magicians do on the big screen?), but teamed up with an interesting cast and the brilliant Arthur Penn (of "Bonnie & Clyde" fame), they created one of the best movies of the 80s (the end of the 80s, actually).

This movie is a must-see.
Intelligent script, good performances, a jazzy score and great direction make this movie totally genius.

I couldn't find any faults at all.
Rewind Rating
The Movie Data
Key Crew
Director: Arthur Penn
Writer: Penn Jillette, Teller
Producers: Timothy Marx, Arthur Penn
Locations Manager: David Declerque
Update The Crew
Data
Release Date: 22 Sep 1989
MPAA Rating: R
Studio: Warner Brothers
Production: Lorimar Film Entertainment
Genre: Comedy
Update The Data
The Movie Trailer
Jump To: Music & Soundtrack Vibes
Or use the menu to navigate
1989 Warner Brothers
1999-2020 fast-rewind.com
V4_27 Powered by Rewind C21 CMS