REWIND
REVIEW

"
There's a world on both sides of the rainbow where songs come true & every time it rains, it rains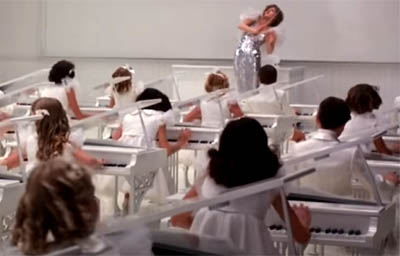 Starring
Steve Martin, Bernadette Peters, Christopher Walken, Jessica Harper
Review
In the 80s, most musicals were of the "Flashdance" persuasion...In other words, they were Popsicals. Very few traditional musicals were made in the decade and those that did make it to the screen ("Little Shop Of Horrors" and "A Chorus Line" as examples) were Broadway adaptations.

This was an adaptation too, but of an altogether different persuasion. Based on a late-70s British miniseries written by the legendary Dennis Potter, "Pennies From Heaven" is about the collision between the fantasy riches of Tin Pan Alley songs and the cold, hard reality of the time they were spawned in...The Great Depression.

A brief note before the summary commences:

It was rather appropo that a musical of this caliber would be made at MGM, but old Louis B. was probably rolling in his grave at what made it into this tale. I'll let the summary speak for itself:

Martin plays Arthur, a sheet music salesman whose life has been going nowhere for a good long time. He's somewhat of a gentle spirit (as evinced by the fantasies he sets to the music he sells), yet he's also a priapic jerk and greedy to boot. In the romance department, things between Arthur and his wife Joan (Harper) are bad. He wants her to be a naughty vixen, but Joan is clearly a woman unnerved by his romantic ideas. On the inside, he may be lip-synching Connie Boswell's recording of "I'll Never Have To Dream Again" to woo his love, but on the outside, he's begging for wild, passionate lovemaking.

Arthur wants to feel the rush of life again. Unfortunately, the bank is stopping him before he's on a roll. Due to various problems, Arthur can't get the loan he needs for his dreams to come true. In his head, though, Arthur and The Banker (Garner) are positively moon-faced over money. In a spectacular musical number set to Sam Browne and The Carlysle Cousins' "Yes, Yes!", gigantic coins roll around while chorus girls by the score tap their hearts out in what looks to be a mansion set for a king.

Back to reality...Arthur decides to get some money made. He takes to the road to ply his trade. On his way, he picks up a person known simply as The Accordion Man (Bagneris). A disturbed individual, he nevertheless has a hopeful spirit. As both Arthur and The Accordion Man are in the same business more or less, they head into a town to do their thing, Accordion Man on a street corner, Arthur in a music store. Basically turned down despite his great showmanship, Arthur is about to walk off when he spots a lovely young woman being attended to. Her name is Eileen (Peters) and she's such a vision that Martin fantasizes that he's Bing Crosby performing "Did You Ever See A Dream Walking?". Such is the beauty of this girl, yet she'll set him on a path to ruin. That's later, though.

After mistreating The Accordion Man, Arthur makes it up to him by treating him to dinner. Although The Accordion Man understands that life will never be what he wants it to be, he feels that it's still a good world. To prove his point, Accordion Man steps from the diner into his own musical number. He lip-synchs Arthur Tracy's recording of "Pennies From Heaven" while the skies above produce that. My credit to Bagneris, a dancer liquid in his motion. If movie musicals were still produced regularly, Bagneris would be Tom Cruise-huge, he's that talented.

Wanting to get away, Arthur gives Accordion Man a quarter and motors to Eileen's house. Although Eileen is scared at first, Arthur works his charms. By merely saying the words, "My name is Arthur and I love you", Eileen melts. She's his mistress now and his energy, his vibe, his drive is increased tenfold. Relating his tale to two fellow salesmen, a fantasy musical number is performed, this time set to the tune of "It's The Girl", as performed by The Boswell Sisters with The Dorsey Brothers Orchestra. After this, the guys think Arthur is only in it for the sex. Arthur knows in his heart its otherwise and he's not afraid to get physical to get his point across.

Eileen is lovestruck, too, but her musical number is of a less sexual nature. Interrupting her class (she's a schoolteacher), Eileen lip-synchs to the song "Love Is Good For Anything That Ails You", as performed by Phyllis Robins with Orlando and His Orchestra while her young students mimic the sounds of said orchestra, playing pianos, violins and brass while tap-dancing.

Arthur has made his way back home and Joan has gone through with the tart idea. It can't be described on this website (I think the mentions of priapism were pushing it), but Joan feels the coldness in their relationship still. When Arthur finally lands his loan for real (reel?), Joan listens to his words of "I Love You" and fantasizes a murder scenario while lip-synching Dolly Dawn with George Hall and His Orchestra's "It's A Sin To Tell A Lie".

Still not providing him with what he needs, Arthur goes back to Eileen, but not before meeting a Blind Girl (Eliska Krupka). Stunned by her beauty, he asks if he can help her in any way. She refuses and just walks on. She'll be back, though and not in a pleasant way. Anywho, Arthur and Eileen reunite and Arthur finds out that as a result of their tryst, she's pregnant. While the two figure out their predicament, Eileen hears one of Arthur's fantasies and tries to provide it for him. The song she lip-synchs is "I Want To Be Bad" by Helen Kane (Useless Fact: Helen Kane was the basis for cartoon character Betty Boop). The fantasy? Let's just say that Aerosmith's "Love In An Elevator" wasn't an original idea.

We now see the Accordion Man again. When the Blind Girl trips over his accordion, he goes from starry-eyed romantic to...GULP...rapist-murderer. On his way back from Eileen's, Arthur sees the crime scene and drives off fast, narrowly avoiding hitting the Accordion Man. Arthur now feels he has to change, but when the music shop he opened isn't getting customers and his mistress is pregnant, one wonders if there are indeed any rainbows to be found in this time.

Eileen, hard up for cash after having been fired from her job, enters a bar and meets a man named Tom (Walken). He's what Melanie Griffith's character of Tess McGill in "Working Girl" would dub a "sleazoid pimp". He may be one, but to cajole Eileen into prostitution, he does a dynamite tap-dance/striptease as he lip-synchs Irving Aaronson and His Commanders' recording of "Let's Misbehave".

Arthur is facing down the spectres of his soul as his world crashes around him. He fantasizes what his life would be like with both Eileen and Joan, as the 3 of them lip-synch the song "Life Is Just A Bowl Of Cherries". As Arthur sees Eileen (street name "Lulu") hooking, they decide to leave everything behind. They break records (literally) in Arthur's store and live together in an apartment near the subway. Eileen is starting to get fed up with her ruined life and not even a fantasy musical number set to Fred Astaire's "Let's Face The Music And Dance" can lift Eileen or Arthur's spirits. The end of the line is near, with Arthur being framed for the blind girl's rape and murder.

Sent to the gallows, he recites "Pennies From Heaven" as a monologue, almost telling the audience not to take life for granted. Does he die?

You'll just have to rent it to find out...
Author:
John Edward Kilduff
Update This Review
Verdict
Okay, this may not be a typical 80s musical for most of you, but I feel it is, in that the themes of romance and optimism against all odds are present as in so many other 80s movies.

Steve Martin turns in a powerhouse performance, revealing dramatic gifts that would only come to fruition in the 90s. Bernadette Peters and Jessica Harper play their roles with great verve and complexity. Vernel Bagneris is a dynamite dancer. Finally, Christopher Walken shows off the dancing talents he would later employ in Fatboy Slim's music video "Weapon Of Choice", as well as over 10 appearances on "Saturday Night Live".

From the choreography to the cinematography to the production design, stem to stern, this is a great 80s musical. It's a great musical period.

For me, it's a perfect 10.
The acting, the music, the design, the feel...The movie, PERIOD!

Aside from the fact that it's only on VHS, there's none I can find.
Rewind Rating
The Movie Data
Jump To: Music & Soundtrack Vibes
Or use the menu to navigate
1981 Metro Goldwyn Mayer
1999-2020 fast-rewind.com
V4_27 Powered by Rewind C21 CMS