REWIND
REVIEW

"
The story of a rebel and his bike.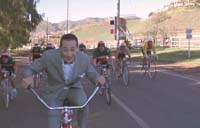 Starring
Paul Reubens, Mark Holton, Elizabeth Daily, Diane Salinger
Cameos
Look for Tim Burton, Milton Berle, Phil Hartman, Dee Snider making a cameo appearance!
I believe it is when Pee Wee is getting chased in Hollywood, he cuts in front of a music video being shot by Twisted Sister, for their song "Burn in Hell". Dee Snider of Twisted Sister was a good friend of Paul Reubens at the time.
More Trivia from Pee-Wee's Big Adventure
Review
Before we were crying tears of laughter from Jim Carrey... Before we were being shocked by the controversial actions of Tom Green... Before we were bursting out in fits of giggles from Andy Dick, there was... Pee-Wee Herman!

"
I know you are, but what am I?!
"
Famous for his child-like image and infectuous laugh, Pee-Wee Herman ruled the 80's. He starred in his own HBO special opposite Phil Hartman as Captain Carl. He had his own t.v. show which starred, among other characters, an aqua colored chair named Chairy and a girl named Penny who had pennies for eyes. He even had his own doll which was the spitting image of Pee-Wee himself (I have to admit, I used to own this doll "back in the day"). He was the answer to a lot of kids prayers: an adult who lived and acted like a 10-year old boy. A real life Peter Pan, if you will.
This entertaining comedy classic begins in France. A professional bike race is about to begin and the competitors are excited. On your mark, set, go! They are off and our friend Pee-Wee is in the lead. He is riding a tassled, red from-the-60's-looking bike which is his pride and joy. Pee-Wee wins the race! What an awesome feeling... What a wonderful sensation... What a dream.
Pee-Wee wakes up in his house which rivals any dream you could imagine. A 50's-esque furnished home with a fireman pole to slide down from, a machine that cooks breakfast and a shute which shoots out dog food for Pee-Wee's adorable pet puppy Speck. Pee-Wee lives in a world of chu-chu trains, fuzzy slippers and Mr.T cereal. But his prized possession lives inside his garage... his tiger embossed bicycle.
Eager to take his beloved bike out for a joyride, he runs into Francis (Mark Holton), a chubby jumpsuit wearing daddy's boy who, like Pee-Wee, is an adult kid, or more precisely, an adult brat. He lives in a mansion with his father and a bunch of servants, but all he wants is Pee-Wee's bike. Tough luck. Pee-Wee would never part with his treasure and so he leaves the pouting Francis behind as he rides his bike to the shopping center.
Once in town, he immediatly chains his bike up to keep it safe. His first stop is Mario's Magic Shop where he stocks up on such supplies as trick gum, headlight glasses and a red boomerang tie. Then he stops off at Chuck's Bike-O-Rama where the adorable Dottie (Elizabeth Daily) asks him out on a date. His excuse for shutting her down?
"
I'm a loner, Dottie. A rebel.
"
After leaving Chuck's shop, Pee-Wee happily skips back to where he chained his bike, but... it's gone! Hysterical, he faints and when he comes to it seems that everybody is riding a bike and taunting him. He tries to retrace his steps, but he can't seem to figure out who would steal his bike! Who wanted it that badly... Francis!
Pee-Wee breaks into Francis's house, but even a fight in Francis's indoor pool is to no avail. Francis won't admit to stealing Pee-Wee's bike (although, of course, he did). Pee-Wee works hard putting up signs offering $10,000 for the safe return of his bike, but it's no use. He must retrieve his bike himself.
Distraught, he leaves in the rain and comes across a fortune teller who tells him his bike is in the basement of the Alamo in Texas. Pee-Wee decides to hitchhike and gets picked up by Mickey (Judd Omen) who was ridiculously imprisoned for cutting the tags off a mattress. Mickey feels he's too "dangerous" to be with Pee-Wee and so Pee-Wee has to find another means of transportation. He gets into a big Mac truck with a spooky woman named Large Marge who drops him off at a diner. Turns out that Large Marge was really a ghost, a deceased friend of the people at the diner and they all look at him like he's crazy.
All except Simone (Diane Salinger). She befriends Pee-Wee and takes him inside a statue dinosaur at the bus-stop to watch the sunset. Her boyfriend, Andy, a burly Bluto-from-Popeye-type, is extremely jealous by this and chases Pee-Wee to an oncoming train.
Pee-Wee jumps on the train and meets a hobo named John. John is a nice guy, but Pee-Wee can only take his "Jimmy Cracked Corn" singing for so long and then jumps off the train landing in San Antonio Texas, home of the Alamo! Once inside the Alamo, a very annoying tour guide informs him there's no basement in the Alamo and he leaves more depressed then ever. He accidently runs into Simone's boyfriend again and is chased into a rodeo where he rides a bucking bull and gets amnesia.
"
I don't have to see it, Dottie. I lived it.
"
He walks, more disoriented then ever, into a bar where he meets a gang of angry bikers and does his classic dance to "Tequila". he wins the bikers over and they befriend him, taking him to the hospital after he crashes his motorcycle through a billboard. In the hospital he sees a special on t.v. where a child actor at Warner Bros studio is being presented with....Pee-Wee's bike!
Pee-Wee gets to Hollywood and becomes the target of a cat and mouse game after he retrieves his treasured bike. The new owners of the bike are after him and he almost escapes, but a burning pet store catches Pee-Wee's eye and he doesn't have the heart to let the animals die. He easily saves the pets, but leaves the snakes for last (for obvious reasons). I always think it's so hilarious when he finally gets the snakes and runs out of the store screaming and faints.
The authorities catch him, but they make a deal. They won't arrest him if the can make his story into a movie, thus the creation of "Pee-Wee's Big Adventure". The question is does Pee-Wee take Dottie to the premier of his new movie?
Author:
Bridgette Marie
Update This Review
Verdict
Classic film. Very entertaining from begining to end. Paul Reubens is one of the greatest comedic actors of our time and he prooves it with this film which is enjoyable to people of all ages.
Great actors, plot, scenes. Pee-Wee has a great child-like personality which captivates the viewer.

Can't think of any!
Rewind Rating
The Movie Data
Jump To: Music & Soundtrack Vibes
Or use the menu to navigate
1985 Warner Bros.
1999-2020 fast-rewind.com
V4_27 Powered by Rewind C21 CMS