REWIND
REVIEW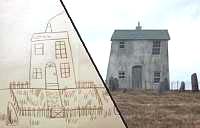 Starring
Charlotte Burke, Jane Bertish, Samantha Cahill, Glenne Headly
Sarah Newbold, Gary Bleasdale, Elliott Spiers, Gemma Jones, Steve O'Donnell, Ben Cross, Karen Gledhill, Barbara Keogh Update Cast
The original book is called "Marianne Dreams" by Catherine Storr, with the original characters names being Marianne and Mark. A follow-up book was written, called "Marianne and Mark".
More Trivia from Paperhouse
Review
What do you do when your dreams start taking on a reality of your creation?

That's what Anna Madden (played by Charlotte Burke) finds out when an illness of hers gives her the ability to start having control over her dreams through her drawings. Or is it her dreams that are controlling her drawings? Either way Anna is in for some dark and disturbing nightmares that cross over into her reality.

On her 11th birthday, Anna collapses at school, dreaming she finds herself out in the open, sees a house and runs towards it but before she can get there she wakes. Whilst her mother (Glenne Headly) is taking her home, she says she faked the collapse so she could have her horseriding lessons (birthday present). A cross mother turns the car around and dumps her back in school but she bunks off for the afternoon with a friend. A game of hide'n'seek at a disused railway station goes bad when Anna collapses in an abandoned tunnel, again she dreams of the house, the house in the drawing she made earlier that day.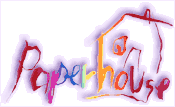 "Is anybody there? Karen!" she calls out, but there's no reply.

She wakes to the sound of police radios, flashlights, the flicker of blue lights and the darkness of the night, she'd been out cold for hours and a full-scale search was in progress. Taken back home by the police, Anna's checked o by a doctor, Sarah (Samantha Cahill) who tells her she's got to stay in bed for the rest of the week, Anna's miffed at that and the doctor tells her of another patient of hers that's been in bed for a year, Marc.

Thinking about Marc, Anna draws a sad face at one of the windows of the house, "too sad" she says and tries to rub it out but her eraser doesn't work on the drawing. Dreaming again she's at the house, "Is anybody there?" a boy appears at a window (played by Elliot Spiers) telling her to "go away don't you understand it's dangerous around here, dangerous".

Anna continues to draw and dream, drawing stairs and rooms to the house so she can go in and meet the boy, who's name we learn is Marc like the other patient of Sarah's and like the other patient, he can't walk, so she draws things in the rooms so he isn't bored all alone when she's not there.

But Marc keeps warning Anna she has to leave because it's not safe there so she draws her dad next to the house so he can protect them, later on when she's angry she crosses out his face and the window where Marc is then crumples up the drawing and throws it away. After retrieving the drawing from the binmen she dreams again, the consequences of her actions with the drawing had disasterous effects in the dream world, the house is dark and Marc's room is wrecked.

He suggests she wakes up and amends the drawing but she can't wake up, suddenly there's a sound, "they've come for us" whispers Marc. Anna spots it's her dad (played by Ben Cross) on the hill nearby but there's something very wrong, he doesn't know who he is, he's blind, he's angry and he's after them with a hammer...
Author:
Ridwan Hughes
Update This Review
Verdict
Paperhouse is an excellent film that's difficult to categorize because of the horror/chiller aspect it has, sure there are scenes that will make you jump out of your skin and your heart stop but take the time to look beyond the scares and you'll see a wonderful story, not one of coming of age but of discovery, learning and living through illness.

The locations are almost perfect choices, a seaside location down in Devon in the UK with a lighthouse surrounded by a large evenly ploughed field. The sets are a visual treat, the house and all the things in it look like three dimensional physical drawings, strange shaped glasses on the table, a primitive computer that looks like something from the 70s and a bed with the head end larger than the foot end for example.

In a lot of cases the film of the book takes just a few elements and makes a new story but this one uses nearly the entire story in the book, it works, making the film a delight to watch because like the book this film won't age.
A film with a plot that you can sink into which leaves you thinking when it's over.

No menacing stones and the ending could have been worked on a bit more.
Rewind Rating
The Movie Data
Key Crew
Director: Bernard Rose
Writer: Catherine Storr, Matthew Jacobs
Producers: Tim Bevan, Jane Frazer, Dan Ireland, M.J. Peckos, Sarah Radclyffe
Locations Manager: Henry Neild, Neil Ravan
Update The Crew
The Movie Trailer
Jump To: Music & Soundtrack Vibes
Or use the menu to navigate
1988 Working Title Films
1999-2020 fast-rewind.com
V4_27 Powered by Rewind C21 CMS