REWIND
REVIEW

"
It's What You Need to Succeed.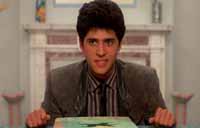 Starring
Daniel Jordano, Matthew Penn, Leon W. Grant, Mary B. Ward
Marisa Tomei, Jimmy Baio, Harold Gould, Kim Hauser, Robert Milli, John Randolph Jones, Bruce Kluger, Anthony Marciona, Glen Robert Robillard, J.D. Rosenbaum, Frank Scasso, Lisa Schultz, Douglas Warhit Update Cast
Review
Playing for keeps is typical of the kind of harmless, fun, teen movies that were so popular in the 80's.

It has a soundtrack, which includes many of the sounds of the day, including Duran Duran offshoot "Arcadia", an upbeat story and 'message' (you can live your dreams, the little people can win after all etc.) and is the kind of simple popular 80's entertainment that makes high-brow movie reviewers and critics puke.

Well, we're not high-brow critics, so I'm gonna say that Playing For Keeps is perfectly reasonable entertainment for 80's movie fans, but is definitely not the greatest either...

It's cliche, formula stuff folks. The premise is this: unemployed city teenager Danny D'Angelo (Danny Jordano) finds that an upstate hotel is one of the family heirlooms. Determined to make a success of something, he inspires his friends to come along for the ride and travels up to see the hotel.

It is, of course, a dump and worse still is destined to be demolished, so that the inevitable corrupt property developer can turn it into a toxic waste dump or something like that.

What follows is standard manic teen stuff where they have to make repairs so that the property meets the building code and thwart the property developer. Mixed in are the standard madcap chases, diversionary tactics, an unexpected wise old sage to help them and of course, those mandatory 80's musical montages.

What makes it reasonable are the performances of the unknown cast and the sheer nostalgia of this kind of pap 80's filmmaking.
Author:
Nick
Update This Review
Verdict
If you're an 80's fan, its perfectly OK stuff really, but hardly a classic.
Good music. Cliche 80's plot of 'triumph of the little people.'

Pretty cheesy stuff.
Rewind Rating
The Movie Data
Key Crew
Director: Harvey Weinstein, Bob Weinstein
Writer: Harvey Weinstein, Bob Weinstein
Producers: Alan Brewer, Ira Phillip Halberstadt, Julia Palau, Michael Ryan, Patrick Wachsberger, Bob Weinstein, Harvey Weinstein
Locations Manager: Nancy Vinicor
Update The Crew
Data
Release Date: 03 Oct 1986
MPAA Rating: PG-13
Studio: Miramax Pictures
Production: Miramax Films, Playing for Keeps Inc.
Genre: Comedy
Update The Data
The Movie Trailer
Jump To: Music & Soundtrack Vibes
Or use the menu to navigate
1986 Miramax Pictures
1999-2020 fast-rewind.com
V4_27 Powered by Rewind C21 CMS