REWIND
REVIEW

"
A slam-bang, non-stop roller coaster of outrageous laughs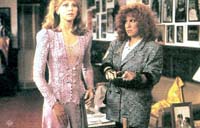 Starring
Shelley Long, Bette Midler, Peter Coyote, Robert Prosky
John Schuck, George Carlin, Anthony Heald, Ji-Tu Cumbuka, Florence Stanley, Jerry Zaks, John DiSanti, Diana Bellamy, Gary Morgan, Christopher McDonald, J.W. Smith, Robert Pastorelli Update Cast
Review
Follow the bouncing ball. The official tag line on this movie is: "The CIA is trailing them. The KGB is tracking them. The phone company is tracing them. The police are chasing them. The cowboys are herding them and the Indians are hunting them. Are they going to fall for all of that?". As so many great movies have, the story begins in New York City...

Lauren (Long) is a well-to-do young woman who is an utter perfectionist and a woman of many trades... Fencer, ballerina, actress. Her life's ambition is to be the first woman to essay the role of Shakespeare's Hamlet.

Compare this to Sandy (Midler). A tawdry exploitation movie actress and woman about town, she is everything that Lauren doesn't want to be. Fate has conspired to throw them together, though, whether they like it or not.

Lauren, with money from her parents, and Sandy, who just walked in, are now students of the great Russian actor Stanislav Korzenowski (Prosky), a great actor but a not-so-great guy, for reasons that shall be divulged presently. Going over the group of students he's teaching, we see a man named Michael (Coyote). He is an individual of such charm that he ends up going out with both Sandy and Lauren, neither knowing of the two-timing. To celebrate their 3-week anniversary, Michael goes into a flower shop to buy Lauren some roses. There's just one small problem...the minute he walks in, the building goes up in a firey explosion. Lauren is in hysterics upon the gruesome sight and when asked to identify the body, she breaks down further. The lies Michael told catch up to him in death as Sandy comes in, quite hysterical herself. She sees Lauren and the demon fire breaks loose. Fighting among the stiffs, they discover that Michael actually isn't dead. Kicked out of the police department for vulgarity, the two are at each other's throats and they're being watched by CIA spooks.

Pursuing their man through NYC, they find that Lauren's apartment is being shaken down by federal agents. Running from the gun-toting authorities (some of whom get killed in one of the movie's many action scenes), they run through town further. They speak to a desperate tobaccanist who gives them information on Michael's whereabouts when promised something in return (he ends up being lied to), a black taxi driver who reveals some info then takes it back (Lauren, in one of several faux pas, says to this large African-American man "Don't give us a song and dance") and a kid with a toy gun who leads the duo to a pair of criminals who know of Michael's whereabouts.

Taking a ride to the airport (as well as several thousand dollars), they're still being pursued. To get onto Michael's flight, Lauren and Sandy use their acting techniques to play young orphans from Prague. The ticket lady doesn't fall for it, but thinks that it's genius nevertheless and thus rewards our daring duo with the flight information. Having just missed his flight, they hop another one during his delay. Now the Feds have caught up with them and as fast as Lauren runs, the agents are running faster, even bum-rushing airport security (remember, this *WAS* 1987) to get their girls. The pursuit continues to Kansas, where our talented twosome meet Michael again and press him for information. It turns out he faked his own death to escape the authorities. Why?

As Lauren and Sandy find out from an acting school buddy who is actually a CIA agent, Michael once worked for the CIA, but turned to double-dealing with the KGB. The focal point of the matter is a deadly virus capable of destroying vegetation for hundreds of square miles. Does the phrase "Goodbye, California?" mean anything to you? If this virus gets out, it will. It is also revealed that Korzenowski is one of the KGB's top men. As it turns out, these CIA agents have been working with the KGB as well. Lied to and feeling betrayed, they tie up 2 CIA agents and 2 KGB employees (one of whom is Korzenowski) to trees in the desert and then make tracks to a small New Mexico town where Michael is scheduled to pull off an exchange of the virus for 20 million dollars.

In this small town, Lauren and Sandy become friends with an "Indian tracker" named Frank Madras (Carlin), a drunken Age Of Aquarius antique with friends in an Indian nation nearby. Helping to track down Michael, the trio find him first in a sleazy saloon, which Lauren and Sandy sneak into as young men. Once they get their man, they end up running again. He's packing heat and ready to kill at all costs. Running into the mountains, Lauren and Sandy call upon their techniques one final time in a battle on a rock face with Michael. The Indian nation is on motorcycles, the CIA and KGB are in helicopters and the survival of the USA, as well as 20 million dollars, is at stake.

Is there a happy ending? Was this movie made in 1987? With a few well-timed ballet moves, Lauren flies from rock to rock, pursued gamely by Michael. When it comes time for the big leap, only one of them survives. Thankfully, the survivor is Lauren. Michael falls to his death, the virus is back in safe hands and the standing ovations begin for Lauren, first on the rocks and then when her dream is realized. Her performance as the Melancholy Dane wins raves and ovations from everybody... Except Sandy.

They may have become friends by this point, but even so, you can't stop a cat fight from breaking out on occasion.
Author:
John Edward Kilduff
Update This Review
Verdict
This movie is a crackerjack combination of four-letter comedy and edge-of-your-seat action.

The Divine Miss M plays Sandy to the brassy hilt, while Shelley Long manages the great genesis of a sheltered actress into a death-defying talent in the character of Lauren. The supporting cast manages good performances and the script is audacious, racy and hilarious. Another solid 9...
Wild comedy, pulse-pounding action and excellent performances...

Violent and vulgar in many places so those of you with higher moral guidelines may want to sidestep this.
Rewind Rating
The Movie Data
Jump To: Music & Soundtrack Vibes
Or use the menu to navigate
1987 Touchstone Pictures
1999-2020 fast-rewind.com
V4_27 Powered by Rewind C21 CMS