REWIND
REVIEW

"
From the director of The Godfather I & II and Apocalypse Now... A Unique Vision Of Love.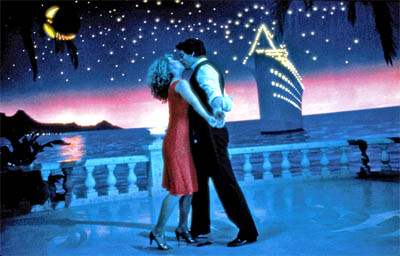 Starring
Teri Garr, Frederic Forrest, Nastassja Kinski, Raul Julia
Harry Dean Stanton, Lainie Kazan, Allen Garfield, Jeff Hamlin, Italia Coppola, Carmine Coppola, Edward Blackoff, James Dean, Rebecca De Mornay, Javier Grajeda, Cynthia Kania, Monica Scattini Update Cast
Early Appearances
See Rebecca De Mornay before they were famous!
Review
I'll be doing this review in the style of my type-up on "The Apple"... One paragraph of plot and then my thoughts and feelings on the film.

The plot is that of Hank (Forrest) and Frannie (Garr), he runs a gas station, she's a travel agent and slowly but surely the love is running out of their relationship. They decide to break up on their 5th anniversary. Over the course of 3 July days in Las Vegas, they'll console themselves with friends (Frannie's friend is named Maggie and played by Kazan, while Hank's is named Moe and played by Stanton). They'll flirt, Hank with a performer named Leila (Kinski) and Frannie with a singing waiter named Ray (Julia). They'll fight and reunite. It's your typical boy-meets-girl, boy-loses-girl, boy-gets-girl story. The behind-the-scenes was anything but.

Coppola was riding high on the success of "Apocalypse Now", which despite a trouble-riddled 3-year shoot, achieved box-office riches and Oscar gold. Coppola didn't want to play by the studio's rules anymore. He wanted to call the shots and revolutionize the film industry from stem to stern. The purchase of Hollywood General Studios in the early 80s (the studio was best known as the filming location for the classic series "I Love Lucy") was Coppola's dream and ultimately his downfall.

Coppola wanted only the best collaborators for his maiden Zoetrope effort, the film I review today. His frequent cinematographer Vittorio Storaro gave the movie its color. His frequent production designer Dean Tavoularis recreated Las Vegas entirely on a series of soundstages. For the clothes, he chose Ruth Morley, the great costume designer, who gave the cast beautiful outfits to wear. He hired Gene Kelly to assist with choreography and bought in the infamous Tom Waits to compose the songs and perform them with country great, Crystal Gayle.

Unfortunately, everything that could go wrong did. Coppola's new production techniques took a long time to get their kinks worked out. The movie ran over-budget. When it was finally completed, the troubles didn't stop. Theaters had to have new sound equipment installed, as well as adjusted screens (The movie was filmed in Academy Ratio, much like the classic movies of the 30s and 40s). When it all came down, the critics couldn't make heads or tails of it. They thought Coppola came up with a movie that was heavy on design and short on what the title had ..."Heart". They thought Waits and Gayle were mismatched vocalists.

"One From The Heart" was one shot in the foot in the critics' eyes. On top of that, the movie's investors and the real estate companies were uncomfortable with the movie's failure, after Coppola's promises of success beyond their wildest dreams. In short order, Coppola lost Hollywood General and became a director-for-hire for years and years.

Were the critics right? Did this movie deserve the failure that came to it?

I say "No" and "No" again. Perhaps after the grand pronouncements of "Apocalypse Now", critics just weren't ready for Coppola to do a small story with big trappings. If they could look past the visuals, they would see a sweet, charming tale of love lost and love found again, set to a song score where seeming discord transforms into harmony. If the critics looked hard, they could see a touching performance by Forrest and a radiant-and-sexy Garr (complete with nude scene). The beauty of Kinski and the dashing good looks of the late Julia perfectly complemented their on-screen love interests.

As the man said, "Genius is never appreciated in its' own time"...
Author:
John Edward Kilduff
Update This Review
Verdict
To me, this movie is a precursor and a companion to several of our favorites. Like "Blade Runner", it's a stylized movie from 1982 that swan-dived at the box office and took a beating from critics, only to gain a good reputation as the years wore on. In a way, it's also an early forebear of sensory-overload "popsicals" like "Flashdance". To leap back to 1982, just like "Cat People", OFTH is a good showcase for the beauty of Nastassja Kinski.

Odd... All of the movies I listed as companion pieces were thought of as garbage by the film critics, yet all have come a long way. While Coppola's dreams of his own big studio may have been too Icarus-like, "One From The Heart" will stand as a testament to the powers of dreaming big and shooting for the stars. I give it a 9. Bravo, Mr. Coppola. Garr, Kinski, please meet me in my critic's quarters for further discussion ;).
A sweet and simple story, a dazzling design, terrific performances and a grand sensuality...

The only one is that more critics couldn't appreciate this movie.
Rewind Rating
The Movie Data
Jump To: Music & Soundtrack Vibes
Or use the menu to navigate
1982 Zoetrope Studios
1999-2020 fast-rewind.com
V4_27 Powered by Rewind C21 CMS