REWIND
REVIEW

"
Ever since two men turned the City Morgue into a swinging business, people are dying to get in.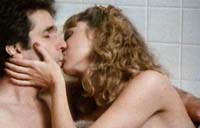 Starring
Michael Keaton, Henry Winkler, Shelley Long, Gina Hecht
Jaid Barrymore, Cheryl Carter, Pat Corley, Corki Corman, Bobby Di Cicco, Nita Talbot, Basil Hoffman, Tim Rossovich, Joe Spinell, Cheryl Carter, Becky Gonzalez Update Cast
Early Appearances
See Shannen Doherty, Kevin Costner before they were famous!
Cameos
Look for Ron Howard, Clint Howard making a cameo appearance!
Review
Chuck Lumley (Winkler) is one of those guys who appear to have found their perfect job. In Chuck's case, he's a morgue attendant and appears to have marginally more life in him than the stiffs he's looking after.

He gets shunted back to the night shift, where his pleasant routine (feed the plants, tidy the paperwork, listen to classical music, no excitement allowed) is shattered when he finds himself teamed up with an obnoxious, outrageous partner, Bill Blazejowski (Keaton), who is always dreaming of success and ways to make money.

Bill is loud, crude and out for a fast buck. He claims credit for most of the major inventions of the late 20th Century ("oh yeah. Wash-and-Dries. Did I ever tell you I had the idea for them first?"). Bill longs for his "one great idea" for success.

Chuck's life takes a bizarre turn when a neighbour, Belinda Keaton (Long), complains about the loss of her pimp. Bill, upon hearing the situation, suggests that they fill that opening themselves using the morgue at night as their brothel...

Against Chuck's better judgement, he gets talked into the idea, only to find that keeping their new business line from their boss is going to be tougher than he thought.

In the end, it's more than his boss that has objections...
Author:
Paul Shrimpton
Update This Review
Verdict
This was one of Ron Howard's earliest director roles and is probably his most successful attempt at all-out comedy. He's honed his cinematic skills with movies like Apollo 13 and A Beautiful Mind, but to see the genius behind the effects, you would do a lot worse than to catch Night Shift.

OK - the performances. Michael Keaton is at his manic, Beetlejuice best. He's completely off the wall as Bill, and he plays the role as if he doesn't really want to give the others much screen-time. This fits in so well with the character, it's brilliant. Henry Winkler is a revelation. We were all used to him as The Fonz, with Ron Howard as the nerdy sidekick to the brash, confident Arthur Fonzarelli. The reversal of role for Winkler works so well, it's like watching another actor. Shelley Long plays the 'lead hooker' and although there was a question at the time about how she could play the role (she's SOOO nice in Cheers!) Long gives the role a depth that surprised a lot of critics.

There were a few cameo roles for up-coming actors, such as Kevin Costner and Shannen Doherty.

All in all, it's a movie that will surprise a few and appeal to many.
Very good performances from the leading actors and a good supporting cast.

Predictable - but fun!
Rewind Rating
The Movie Data
Jump To: Music & Soundtrack Vibes
Or use the menu to navigate
1982 Warner Brothers
1999-2020 fast-rewind.com
V4_27 Powered by Rewind C21 CMS