REWIND
REVIEW

"
One man can bring the world to its knees and only one man can stop him.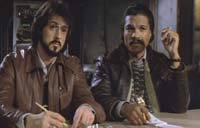 Starring
Sylvester Stallone, Billy Dee Williams, Lindsay Wagner, Persis Khambatta
Early Appearances
See Catherine Mary Stewart before they were famous!
Cameos
Look for Jellybean Benítez making a cameo appearance!
Review
In 1981, after 444 days, Iran releases all 52 American hostages. Minutes after, Reagan is sworn in as President.

Later that year, President Reagan is shot in an attempted assassination. After emergency surgery, he survives.

Escaped Turkish killer, Mehmet Ali Agca, shoots the Pope, who is waving to the crowds in St. Peter's Square. The Pope undergoes surgery for five hours and also survives.

It was this exact year when the police action thriller, Nighthawks was released. A solid urban thriller that starred Sylvester Stallone is his strongest performance since the original "Rocky" and an unknown foreign actor making his American debut, Rugter Hauer.

Mainly set in New York, London and Paris, Nighthawks told the story about undercover street cops Deke DaSilva (Stallone) and Matthew Fox (Williams) who prowl the streets waiting to bait the scum of the city. For DaSilva, however, his all consuming job has cost him his marriage to Irene (Wagner) and he is determined to attempt reconciliation.

Meanwhile, the international terrorist known as Wulfgar (Hauer) is only a few steps from being captured by interpol agents led by Hartman (Davenport), in order to evade them and still stay competent, he enlists the help of his partner in crime (Khambatta), undergoes a facelift and heads to New York to continue his random acts of terrorism.

Under Hartman's guidance, DaSilva and Fox are assigned to an anti-terrorist task force studying Wulfgar's methods (Exploding building, media attention, using girlfriend's places to store weapons, etc.). Their pursuit goes from discos all the way to a hostage situation on the Roosevelt Tramway where Wulfgar holds U.N. diplomats for several hours.

As the two get closer to him and begin to understand his thought processes, DaSilva and Fox must think fast before Wulfgar strikes even more closer to home.
Author:
Andre' Joseph
Update This Review
Verdict
No doubt that this is one of the best action thrillers of its time and that is true to this day. The performances are well executed, the action is fast paced and the settings are very authentic as well as the police and anti-terrorist task force procedures.

This is definitely up there with "Lethal Weapon" and "Die Hard", although unlike those two, it essentially plays like a 70's movie --which isn't necessarily a bad thing. The later "Dirty Harry" movies are good examples of this. Good solid drama, staying away from the 'buddy-buddy' humor of later movies.
Great action, good acting, Stallone and Hauer in their top form.

A little dated and the disco is past its time.
Rewind Rating
The Movie Data
Jump To: Music & Soundtrack Vibes
Or use the menu to navigate
1981 Universal Pictures
1999-2020 fast-rewind.com
V4_27 Powered by Rewind C21 CMS