REWIND
REVIEW

"
Sean Connery IS James Bond!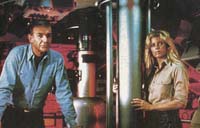 Starring
Sean Connery, Kim Basinger, Klaus Maria Brandauer, Barbara Carrera
Max von Sydow, Bernie Casey, Edward Fox, Alec McCowen, Pamela Salem, Valerie Leon, Milos Kirek, Pat Roach, Anthony Sharp, Prunella Gee, Gavan O'Herlihy Update Cast
Cameos
Look for Rowan Atkinson making a cameo appearance!
Review
Originally titled 'Warhead', this film was re-named as an inside joke regarding Sean Connery's answer to the constantly-asked question 'When will you play Bond again?'

His reply... 'Never again'.

'Never', otherwise known as 1983, presented the return of Connery to his most recognized role, in a film cited as a remake of 1965's 'Thunderball'. This Bond film, produced by Warner Brothers, was the only 007 film not produced by Albert 'Cubby' Broccoli and United Artists, so it was often referred to as the 'bastard' Bond film, or neglected a mention entirely when discussing the 'Bond series', all unfairly so. At the time of its initial release, this Bond film rivaled its 'official' United Artists' counterpart 'Octopussy', in box office receipts and the film is still one of 007's best to date.

The film opens with the usual Bond excitement, until it is revealed that it's simply a training mission put on by 'M' (Fox) to assess the 'double-0's' fitness for duty. 007 is sent to a health spa to get into tip-top shape to foil SPECTRE, who have stolen a pair of ALCM cruise missiles from a US air force in Britain and threaten to detonate them if the NATO powers don't give in to their demands. SPECTRE is headed by the infamous Ernst Stavro Blofeldt (von Sydow) and the evil plans rely upon 'Number 2', Maximillan Largo (Brandauer), and 'Number 12', Fatima Blush (Carrera).

Bond is sent to the Bahamas to make contact with Domino Petachi (Basinger). Domino is the sister of the US Air Force Captain who assisted SPECTRE and was promptly killed for it. Fatima Blush spots Bond and sets her sights on eliminating him via an exciting motorcycle chase, highlighting Fatima's 'explosive' personality. Bond realizes that Domino's lover, Largo, is involved with SPECTRE and is most likely responsible for stealing the nuclear warheads.

Kim Basinger brings the right mix of sex and smarts to the role of Domino and it is a treat to watch this award-winning actress in her early days, mastering her craft. During the 'charity ball' scene, don't miss Basinger and Connery doing the tango; the chemistry is more than apparent. Also, during this scene, catch the early-80's video games, including a 'futuristic' game called Domination, for a nostalgic chuckle.

Largo sets the wheels in motion, as he positions one nuclear weapon directly beneath the White House in Washington DC and attempts to move the other one to a location in North Africa close to the Middle East's oil fields. Domino's pendant given to her by Largo, the Tears of Allah, gives Bond a clue as to where Largo is moving the second weapon. He and Felix Leiter (Casey), along with Marine troops, intercept Largo's men. During a climactic underwater battle, Domino kills Largo.

While this film lacks the trademark John Barry score, including the 'James Bond Theme' (the score is a bit disappointing altogether) and one also misses the familiar 'Q' (Desmond Llewelyn) and 'Miss Moneypenny' (Lois Maxwell), the chance to see Connery do what he does best more than makes up for it:

"Bond... James Bond."
Author:
Kimberley A. Wren
Update This Review
Verdict
Great film. It's wonderful to see Connery as Bond, even at his age!
Exciting, great 80's feel to the film. Connery, Basinger and Carrera are outstanding in their roles.

The score is weak. One misses Desmond Llewelyn and Lois Maxwell in this movie.
Rewind Rating
The Movie Data
Data
Release Date: -- Dec 1983
MPAA Rating: PG
Studio: Warner Bros.
Production: European Banking Company Limited, First National Bank of Chicago (London Branch), MFI Group Pic, Manufacturers Hanover Limited, Midland Montague Leasing Limited, PSO International, Talía Films, Warner Bros. Pictures, Woodcote
Genre: Action / Adventure
Update The Data
The Movie Trailer
Jump To: Music & Soundtrack Vibes
Or use the menu to navigate
1983 Warner Bros.
1999-2020 fast-rewind.com
V4_27 Powered by Rewind C21 CMS