REWIND
REVIEW

"
If you want to save our World, you must hurry.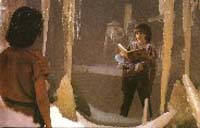 Starring
Barret Oliver, Noah Hathaway, Tami Stronach, Moses Gunn
Review
Have you ever read a book and been drawn into the story? Have you journeyed with the Hobbit, or become the Dread Pirate Roberts in the Princess Bride. If you have then know this, those were safe stories, for you could close the book and never fear.

Those were SAFE stories but this one isn't! So join Bastian as he journeys through The Neverending Story...

It is 1984 and Bastian has recently lost his mother. Now he has no hopes or dreams. He doesn't even have friends. The only thing Bastian has are his books. His books are an escape for him. A new world where someone else has a problem and he can leave at any point. That is all about to change for Bastian has discovered The Neverending Story in a small bookstore and it is not one of his SAFE stories.

The Story so far...

Fantasia is a world nearing its own end. The Nothing is consuming everything and the only hope for Fantasia is a boy by the name of Atreyu. He must seek the southern oracles and ask for their advise. It isn't going to be an easy trip for there are many dangers waiting for Atreyu.

Will Bastian become part of the story? Will Atreyu save his world before it becomes Nothing?

Or will evil win out? I guess you will have to see the film and have your own Neverending Story...
Author:
Marty
Update This Review
Verdict
I still can't help loving this film. It makes me think of all those books I enjoyed reading while my parents were asleep. Oh how grand the memories are. So I hope this movie brings you back to a wonderful time and if nothing else sit back and enjoy...
Strong characters, realistic fantasy, an all around good movie.

I didn't look, just enjoyed a good movie... ;)
Rewind Rating
The Movie Data
Data
Release Date: 20 Jul 1984
MPAA Rating: PG
Studio: Warner Brothers
Production: Bavaria Studios, Neue Constantin Film, Producers Sales Organization, Warner Bros. Pictures, Westdeutscher Rundfunk (WDR)
Genre: Fantasy
Update The Data
The Movie Trailer
Jump To: Music & Soundtrack Vibes
Or use the menu to navigate
1984 Warner Brothers
1999-2020 fast-rewind.com
V4_27 Powered by Rewind C21 CMS