REWIND
REVIEW

The Muppets Take Manhattan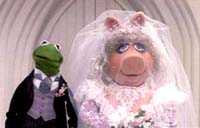 Starring
Juliana Donald, Lonny Price, Louis Zorich, Art Carney
Dabney Coleman, Linda Lavin, Liza Minnelli, Frances Bergen, Edward I. Koch, John Landis .., Vincent Sardi Jr., Steve Burnett, Mary Lou Harris, Joanne Hamlin, Hector Troy, Norman Bush Update Cast
Early Appearances
See Gates McFadden before they were famous!
Cameos
Look for Gregory Hines, Joan Rivers, Elliot Gould, Brooke Shields, James Coco, Ed Koch making a cameo appearance!
Review
The Muppets, along with a host of 80s celebrities, star in this ode to the Great White Way.

Kermit The Frog (voiced and Muppeteered by Jim Henson) is graduating from college with his friends, including Miss Piggy and Fozzie Bear (Frank Oz) and Gonzo (Dave Goelz). Stuck for ideas on what to do with the musical they've created, they decide to go to New York and attempt to make it on Broadway.

You thought you had it bad as a struggling artist, dear reader? That's nothing on our fur-and-felt friends... they're living in lockers at a New York City bus terminal while scoping out the trades in a search for producers.

Thinking they've come across someone good, they go to meet Martin Price (Dabney Coleman), a producer who demands money to cover the expenses of mounting a production. Soon, he's found out to be a fly-by-night scam artist who absconded with an old woman's money.

In a montage set to a song called "Can't Take No For An Answer", the Muppets find they just might have to do that (although they get noticed by a young man who will prove essential to their success later in the movie).

Settling down at a diner, the Muppets decide to go their seperate ways until Kermit gets the musical mounted. It is here that Kermit meets Pete the diner owner (Louis Zorich) and his daughter Jenny (Juliana Donald). Pete tells Kermit to hold on to his dreams, while Jenny tells Kermit of hers...she wants to be a fashion designer. Agreeing to work on Kermit's musical, Miss Piggy gets suspicious. As the Muppets tell Kermit of their decision, once again, a song is used...this time, it's the emotional ballad "Saying Goodbye". They've all separated, except for Miss Piggy, who's still hiding in the shadows.

Kermit tries various ways of getting his idea known...he crashes an office in an awful 70s outfit to meet agent Leonard Winesop (John Landis)...he makes up an alternate identity to get into Sardi's, getting into trouble with the management and Liza Minnelli (as herself)... still, nothing works.

In other Muppet news, the crew has found various jobs in other states...Miss Piggy, keeping her eye on Kermit, is working at a fancy department store, Fozzie is hibernating, Rowlf The Dog is working at a kennel and Gonzo works at a water stunt show.

Finally, Kermit and Piggy reunite after a mugging, which leads to a fictional flashback that serves as both wonderment on Piggy's part about whether she and Kermit were meant to be together and as the prototype for the 80s cartoon "Muppet Babies".

Finally, Kermit hits the jackpot... he's able to convince the father-and-son producing team of Ronnie (Lonny Price) and Bernard (Art Carney) Crawford to bankroll the production. All is swell, until...

Kermit gets hit by a car. He gets amnesia, wakes up in the hospital and is assigned a new identity and name. Now working with several other frogs at an advertising agency, he seems to have lost his creative spark, along with all memories of his friends.

Now, it's a race against time... Will Kermit recover? Will the show be a hit? Will Piggy and Kermit finally marry? The answers are Yes, Yes and... just watch for yourself!
Author:
John Edward Kilduff
Update This Review
Verdict
As a piece of 80s New York safe for kids and as an entertainment industry satire for adults, this movie is a quality work. Jim Henson (R.I.P) was a creative giant and although the directorial reigns are on Frank Oz in this movie, Henson's good cheer and humanity is evident throughout the movie. The cameos are a riot, also.

The only sad part is that while the World Trade Center isn't seen in this movie, to the best of my knowledge, it still has a sense of a New York that we'll never see again.
Good jokes, fun songs, great satire and The Muppets...

If kids' movies and cuteness aren't your cups of tea, this probably isn't for you.
Rewind Rating
The Movie Data
Data
Release Date: 13 Jul 1984
MPAA Rating: G
Studio: TriStar Pictures
Production: Delphi II Productions, Henson Associates (HA), Incorporated Television Company (ITC), TriStar Pictures, Distributors
Genre: Kids
Update The Data
The Movie Trailer
Jump To: Music & Soundtrack Vibes
Or use the menu to navigate
1984 TriStar Pictures
1999-2020 fast-rewind.com
V4_27 Powered by Rewind C21 CMS