REWIND
REVIEW

"
Prepare yourself for an adventure unlike any you have ever seen or heard.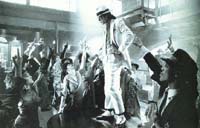 Starring
Michael Jackson, Joe Pesci, Sean Lennon, Kellie Parker
Thanks to
Michael Edwards
MoonWalker was originally supposed to be released in theaters in the USA. But due to lack of marketing and promotion, it went straight to video. Michael was very upset over this. The USA is the only country that the film went straight to video, but was HUGE HIT in all other countries.
More Trivia from MoonWalker
Review
He is one of the world's greatest-known entertainers. A singer who has sold well over 300 million records and counting. A dancer who defies all laws of physics. Despite some cruel twists that saw his reputation tarnished, arguably directly leading to his death at a tragically young age in 2009, as a performer, he had no peers.

Whatever the truth may be, he has made a lasting impression as an expression of boundless love that has reached millions. He is Michael Jackson.

Mr. Michael Jackson was a man that can't be underestimated. He is imitated but never duplicated by every artist on TRL today. His amazing talent aside, it's his natural charisma which made him a true star. A charisma and unparalleld spirit which this world has yet to see in another human being and probably never will. Mr. Jackson was an innocent genius, a driven perfectionist, a unique human being.

"MoonWalker" is a montage of classic performances throughout Michael's career. The film starts out with a poignant, live rendition of the heartfelt humanitarian ballad "Man in the Mirror". From there, the viewer sees Michael as a child growing up through his music. There's even a great claymation scene of the Jackson 5 singing "ABC". We also get a zoom in of what appears to be a dressing room filled with awards, sequined gloves and tons of Michael Jackson memorabilia as the song "Music and Me" by an adolescent Michael plays in the background.

Although every living person is sure to know the song "BAD and its accompanying video, not everyone may know about "BADDER". Headed by Brandon Quinton Adams, "BADDER" is a tongue-in-cheek, lighthearted "kid" version of "BAD" which stars some amazingly talented children actors and dancers recreating one of Michael's best known videos. It is an original part of the "MoonWalker" film and leads into "Speed Demon".

"Speed Demon" is a fabulous video which takes advantage of the Academy-Award winning animation technique of claymation. In the video, Michael is chased by hundreds of screaming "Clay" fans who chase him through water, highways, and deserts. Michael himself becomes a claymation figure and dances with a claymation rabbit who seems to have a bit of Michael's talent in him as well.

The next video is one of my personal favorites titled "Leave Me Alone". The song tells of Michael's struggle through the years with the media and his inner strength to overcome cynical critics. There is great animation in this video filled with a tribute to Liz Taylor, an amusement park and some of Michael's real life pets.

"Smooth Criminal" is the main centerpiece of the whole film. In it, Michael is a "1930's" superhero with three friends, one played by Sean Lennon. He finds out about an evil man named Frankie Lideo, who likes to be refered to as "Mr. Big", played by Joe Pesci who has a liking for tarantulas and plans on world domination by getting kids hooked on drugs.

After Mr. Big kidnaps Michael's friends, Michael pits himself against this man by turning into a Lamborgini-type silver car, a laser shooting robot and eventually a spaceship, which only after killing the forces of evil, vanishes into the night sky.

Oh no! Is Michael gone for good? No way. He returns to belt out an amazing hard-rock version of the Beatles classic "Come Together" and reassures his friends that he is back and better then ever.

If you're any kind of music fan at all you should see this film. Or if you're Michael Jacksons biggest fan, like me, you've seen this film a million times and love it just as much as ever. It's classic, plain and simple. It defines everything Michael is. Michael is a spectacular one-of-a-kind human being, loved by millions the world over.
Author:
Bridgette Marie
Update This Review
Verdict
As you can probably tell, Michael is this writer's favorite singer of all time. However, considering that Michael is the best selling artist ever, I know I'm not alone in being completely in awe and admiration of him.

What I love the most about Michael is that he is himself. While other singers put on a bogus sex symbol image, bleach their hair, wear revealing clothes and sing disposable music, Michael stays himself. Everyone imitates Michael, but Michael imitates no one. He is himself and reveals every aspect of his true self to the outside world and that's what I love most about him.
Well, besides the fact that it stars the best entertainer in the world, it has great music, great special effects, and takes you back to the innoncence of childhood.

If you're not a Jackson fan, this is unlikely to appeal.
Rewind Rating
The Movie Data
Jump To: Music & Soundtrack Vibes
Or use the menu to navigate
1988 Ultimate Productions
1999-2020 fast-rewind.com
V4_27 Powered by Rewind C21 CMS