REWIND
REVIEW

"
The Meanest Mother Of Them All...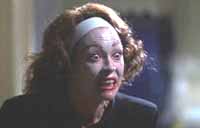 Starring
Faye Dunaway, Diana Scarwid, Steve Forrest, Howard Da Silva
Christina Crawford's book, on which this film was based, was one of the biggest-selling memoirs in the history of American publishing, with more than 4 million copies sold in hardback alone.
More Trivia from Mommie Dearest
Review
In the Golden Age Of Hollywood, one of the most shining stars was Joan Crawford (Dunaway). She was a great actress at both MGM (which gave her her start) and Warner Brothers (where she won an Oscar for the drama "Mildred Pierce"). She was also a caring mother to her daughter Christina (played as a child by Hobel and as an adult as Scarwid)...Or was she?

Crawford, in the days before she made it big, was involved with multiple romances and several miscarriages. Christina only got to Joan because Crawford's friend Greg Savitt (Forrest) was able to pull some strings. Joan was only acting the role of the caring mother...Inside her house, she was another beast entirely with young Christina. It starts out as emotional abuse. For example, Christina gets many presents on her birthday, but Joan would only allow her to keep one, while she would give the rest to various needy children. It then becomes psychological abuse with Joan telling Christina that Crawford will always be better than her. It finally gets physical, with the mere act of hanging a dress on a wire hanger sending Joan through the roof. The battle rages on for years, but do you think it will end when Crawford dies?

Aaah, yes, "Mommie Dearest". This is a movie that you either love or hate. It's difficult to say why you would love or hate it, though. I'm a fan of this movie, but that's because I tend to have a thing for over-acting and nobody does it better than Dunaway in this movie. Child abuse is a horrible thing, of course, but somehow you can find yourself laughing as Joan thrashes her daughter, shrieking the infamous lines "NO WIRE HANGERS! NO WIRE HANGERS, EVER!". You feel guilty about chuckling at the scene, but if it makes you laugh, what's the problem?

One problem I do have, though, is with the stereotype of this movie's typical audience. Over the years, this movie has become a camp classic in the gay community, who love it for its' over-acting and impeccable sense of Golden Age style, but where is it written that you have to be gay to enjoy this movie? I'm straight myself, but I can appreciate a "good bad" movie. That may seem like a contradiction, but to me, there's a difference between a "good bad" movie and a "bad bad" movie. A "good bad" movie is one that the critics hate but the audiences love...One that involves word-of-mouth and audience participation (as you'll see a little of in the trivia), as well as one that can end up on lists that you wouldn't expect. In the case of "Mommie Dearest", the American Film Institute named Joan Crawford as one of the 50 greatest movie villains of all time in their "100 Years, 100 Heroes and Villains" list, while "No wire hangers!" was named one of the 100 greatest lines ever on AFI's "100 Years...100 Movie Quotes" list. A "bad bad" movie can be summed up as a film which routinely shows up on the IMDB's Bottom 100 list.

Grab the popcorn and try to hide the wire hangers and I definitely think you'll enjoy this movie.
Author:
John Edward Kilduff
Update This Review
Verdict
In the end, enjoying this movie may be a matter of how comfortable you feel with some of the situations in this movie. Dunaway's portrayal is over-the-top, so that might not sit well with some people. The treatment of child abuse in this movie could make you feel uncomfortable. Finally, you may feel like questioning your own sexuality while watching this movie.

Treat this movie like a river and just go with the flow. Besides, if it made it onto 2 American Film Institute lists, it couldn't be that bad. Lighten up a little, open your mind and just be grateful you're not in Christina's situation (at least, I hope you're not).

I give this movie a solid 8.
Camp appeal, delightfully over-the-top performances and a great sense of style. You'll actually feel like you're back in the 40s and 50s by watching this movie.

The portrayal of child abuse could leave one a little uncomfortable and this movie isn't for intellectuals.
Rewind Rating
The Movie Data
Jump To: Music & Soundtrack Vibes
Or use the menu to navigate
1981 Paramount Pictures
1999-2020 fast-rewind.com
V4_27 Powered by Rewind C21 CMS