REWIND
REVIEW

"
1964. When America was at war with itself.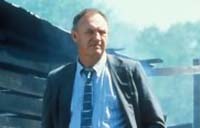 Starring
Gene Hackman, Willem DaFoe, Frances McDormand, Michael Rooker
Stephen Tobolowsky, Brad Dourif, R. Lee Ermey, Willem Dafoe, Gailard Sartain, Pruitt Taylor Vince, Badja Djola, Kevin Dunn, Frankie Faison, Tom Mason, Geoffrey Nauffts, Rick Zieff, Christopher White, Gladys Greer, Jake Gipson, Dianne Lancaster, Stanley W. Collins Update Cast
The students who were killed were trained at the Western College for Women, regarding strategies on how to register blacks to vote.

The college is now part of Miami University, in Oxford, Ohio. A monument for the murdered activists was recently dedicated in their honor.
More Trivia from Mississippi Burning
Review
Alan Parker's 1988 film has all the hallmarks of a mainstream realist classic.

Shot on location in Alabama and Mississippi it deals with the racial bigotry present in the deep south in the mid-1960's and the murders of three young civil rights workers, who in the midst of segregation, attempted to help black citizens register their vote.

Wanting to stay true to the original events, the director has presented a powerful, deeply moralistic film seen through the eyes of two conflicting investigative agents; sometimes making uncomfortable viewing, it is these important issues that make the picture a triumph.

Arriving to seek the truth about the disappearance of the three youths they find a community engulfed in racial tension, however, the silence of the citizens is soon to be broken by Deputy Dourif's wife (McDormand), who connects with Agent Anderson (Hackman) and eventually gives him all important information that is forbidden by Sheriff, Mayor and intimidated yet prejudicial townsfolk.

From here the two agents are at odds over their prospective procedure. The younger FBI Agent (Defoe), intent on his standardized methods and liberal minded professional approach, contrast with the older FBI Agent (Hackman) whose character Anderson is possibly driven by memories of his father's underlying prejudice, his past ignited to form a combative future spirit and it is his confrontational offensive that prevails.

Contrasting characters give the film an interesting angle and the subject matter, however controversial, is complimented by the opposite stand point portrayed by Hackman & Defoe, both excellent here. Differing both in appearance and texture in their performance, they are given the perfect environment in which to deliver, made possible by Parker's inspired casting.

When Anderson delivers ultimatums to those who, in his own mind, are guilty he ignites even more nonchalance in the town's bigoted underbelly.

A concern and indeed certain panic are witnessed, but their inbred belief in the convictions based on white hatred toward coloured drives them to continue their guilty silence.

However, when McDormand's words are acted upon, subsequent to which bodies are discovered in an earthen dam, Hackman's aggression (which is always a joy to behold) comes to the fore. The re-enforcement agents earlier requested by the pragmatic Defoe give strength in numbers but Anderson's approach sees him confront all involved, bringing his own intimidation tactics from experience to expose the horrors of prejudice that lie within the souls of the men in power.

The last image, a shot of the desecrated tombstone of the victim Chaney reads "Not Forgotten" and it is here where Parker's desire to remain with these deplorable events through images that the film is rewarded and as we face the emotions that rise from within, in turn they help us face the important issues that surround racism, to acknowledge the prejudice found written in history textbooks and learn from them sooner rather than later.

A brave and definitive study and a thought provoking, well made 80's account of racism.
Author:
Nik Allen
Update This Review
Verdict
Mississippi Burning is in summary a perfect portrayal of racial unrest, the conception of prejudice is shown by continuously unflinching images, Parker's films are usually based on a certain realism and this film is no exception.

There are no psychological realities or surrealism present here, it is straight ahead and in your face issue illuminator that draws excellent performances from inspired casting, Defoe fresh from 'Last Temptation of Christ' shows his diversity in the figure of the idealistic Agent Ward, but it is Hackman and McDormand who give the picture its conviction, the sexual chemistry is beautifully subtle giving the viewer a chance to submit themselves to the qualities of harmonious attraction, yet understated and tinged with the tragedies of loneliness.

With Lee Ermy as the mayor and Brad Dourif and Michael Rooker as men of law, you can see why the casting was important to the film. Location shooting was another key to success, the meticulous yet dressing for the town is impressive as were the lighting by Academy Award winner Bijoul who's exteriors are shot clinically and create substance in several key scenes.

The genius of Hackman's simple portrayal is as powerful as anything the actor has ever done. Making the director's job easy he manages to deliver a performance brimming with usual energy, yet carefully underplayed in contrast to the character of the younger Agent Ward.

Using projected original footage of KKK rallies and basing many scenes around photographs that inspired, the film is a testimony to the newsreel footage that provides us the images of unrest, it is on these foundations that give Mississippi Burning its due platform.

Without storyboarding, the style of organic filming methods shown have recreated a creation of some magic, but the three murdered youths presents us with the aspect that in as much as this film exposes the shame of racial bigotry it is the reality of history that reveals that the whole episode was only investigated in its day for the simple reason that two of the three murdered were in fact white! This being the moralistic standpoint, it is no wonder that racism lurks as an unconquered epidemic of the mind, sadly still haunting man in this advanced age!
Powerful and emotional realist classic.

Harrowing!
Rewind Rating
The Movie Data
Jump To: Music & Soundtrack Vibes
Or use the menu to navigate
1988 MGM/UA
1999-2020 fast-rewind.com
V4_27 Powered by Rewind C21 CMS