REWIND
REVIEW

"
Micki was the only woman he ever wanted to marry. Until he met Maude. So he married them both.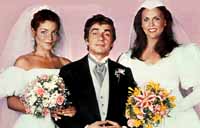 Starring
Dudley Moore, Amy Irving, Ann Reinking, Richard Mulligan
George Gaynes, Wallace Shawn, H.B. Haggerty, Priscilla Pointer, John Pleshette, Lu Leonard, Robert Symonds, George Coe, Gustav Vintas, Ken Olfson, Philippe Denham, Emma Walton, Ruth Silveira, Jack 'Wildman' Armstrong, André the Giant, Big John Studd, Chief Jay Strongbow Update Cast
Review
After the extraordinary success of the 1979 smash hit "10" it seemed fitting that the director and star of that film would one day work together for a second time.

Five years later, that happened, with Blake Edwards and Dudley Moore collaborating on the funny and charming romantic comedy "Micki & Maude", which proved to be one of the most wonderful of its kind during the Eighties.



Moore stars as loveable Rob Salinger, an Englishman in Los Angeles, the host of terrible TV chat show 'America Hey!' which covers the most stupid and idiotic stories imaginable. Rob has been married for 12 years to Micki (Ann Reinking), a busy attorney on her way to becoming a judge.

Everything is happy in their marriage, except Rob's desire for them to have a baby, whereas Micki would rather concentrate on her career instead of being a mother.

One afternoon, while Micki is out of town, Rob interviews Maude Guillory (Amy Irving), a beautiful cellist and there is an instant attraction between them. They meet again the following evening and Rob finds himself easily seduced by the lovely Maude.

Despite the guilt he feels at being a married man, Rob continues to see Maude and the two of them fall in love. When Maude announces to Rob that she's pregnant, he decides to divorce Micki and marry Maude.

However, when Rob arranges to meet Micki in a posh restaurant to tell her what's happened, Micki suddenly announces that she's pregnant! Not knowing what to do, Rob pretends to Maude that he's a free man and marries her too - therefore, becoming a bigamist... with TWO pregnant wives!
Author:
Barnaby Marriott
Update This Review
Verdict
"Micki & Maude" is an extremely funny film, which manages to blend farce humour with sweet romance brilliantly.

Considering that the main character is a bigamist, lying and deceiving two pregnant women, it could have been very easy for the viewer NOT to like or emphasize with Rob Salinger, but Dudley Moore manages to make Rob a really likeable and sympathetic part.

You are never in any doubt that Rob would intentionally hurt either of his wives and it's clear to see that he loves them both so much. Right from the beginning of the film, it is obvious that all Rob wants out of life is a child... although things may have not turned out EXACTLY how he originally planned!

Moore is supported beautifully by Ann Reinking and Amy Irving, who portray the film's title characters so excellently that it's easy to see why Rob would not be able to be with one wife and not the other!

Stealing his every scene, Richard Mulligan gives a terrifically droll performance as Leo Brody, Rob's best friend and confidante, who gives Rob constant unwanted advice and keeps a cynical eye on all the goings-on.

Although the film may not be as stylish as Blake Edwards' earlier "10", "Micki + Maude" works due to its simplicity and charm, and laughout loud humour - the hospital scenes, where both wives go into labour on the same day, with Rob frantically rushing back and forth, contains some of the funniest moments ever put on film.
Funny, romatic, unforgettable.

The ending is a little bit farfetched, but that is the only thing to criticise.
Rewind Rating
The Movie Data
Jump To: Music & Soundtrack Vibes
Or use the menu to navigate
1984 Columbia Pictures
1999-2020 fast-rewind.com
V4_27 Powered by Rewind C21 CMS