REWIND
REVIEW

"
Sometimes the most unlikely people become heroes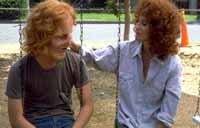 Starring
Cher, Eric Stoltz, Sam Elliott, Laura Dern
Kelly Minter, Dennis Burkley, Estelle Getty, Lawrence Monoson, Richard A. Dysart, Micole Mercurio, Harry Carey Jr., Ben Piazza, L. Craig King, Alexandra Powers, Kelly Jo Minter, Joe Unger, Todd Allen, Howard Hirdler, Jeannie Dimter Barton, Steve James, Cathy Arden Update Cast
Cameos
Look for Anna Hamilton Phelan making a cameo appearance!
Review
If ever the saying "Don't judge a book by it's cover" can be used and back up its message, it would be for the title character in the film "Mask"....

Initially, when the viewer learns that the main character suffers from a disease dubbed "Lionitis" which distorts the face and reminds one of "The Elephant Man", they tend to assume that the inflicted person must lead a miserable, disabled life. In the case of Roy "Rocky" Dennis, this assumption couldn't be further from the truth.

Rocky Dennis (Eric Stoltz of "Some Kind Of Wonderful") is by most means a normal 16 year old A-student who lives in the suburban city of Azusa in Los Angeles County with his mother Rusty (Cher of numerous albums and films), a biker-type woman who although beautiful and maternal, battles some drug co-dependency issues.

This Peter Bogdanovich directed film takes us through the everyday occurences of a boy who struggles with such issues as raising money to take a trip to Europe, adjusting to new schools, getting a girl's attention (particularly the attention of Diana, a sweet blind girl played by Laura Dern) and dealing with horrible migrains because of his disease.

The main premise of this very touching film is to demonstrate the true story of a young boy from Southern California, who aside from his disease, is a perfectly normal guy. He just happens to be a teenager with a handicap and the viewer accepts him completely.


"What's the matter?
-You never seen anyone from the planet Vulcan before?"
In my opinion, the most captivating role in the film is that of Rocky's mom, Rusty, played by Cher. Rocky is an incredible person, but because he succeeds so well at being a "normal" teenager, it's his mother, who is not "normal", that the viewer tends to focus on.
Rusty is an unemployed mother who is very straightforward about her lifestyle and even tells her son to butt out of her business when he asks her to stop spending so much time with biker gang members and drugs. However, early on in the film she starts to become disenchanted with her promiscuous ways and is relieved when the man she really is in love with, Gar (Sam Elliott) comes back home from a road trip. She also supports Rocky on all of his endeavors and even stops abusing drugs when he asks her to.
This film takes you through all of the emotions of life, good and bad, without being melodramatic. It comes across as very sincere and heartwarming, demonstrating high spirits, hope and an abundence of courage.
Author:
Bridgette Marie
Update This Review
Verdict
I cannot stress enough how much I love this film. No matter how many times it comes on cable, I can watch it over and over and always cry at the ending. The film never drags and always keeps you interested.

I always wish I could have known the real Rocky. My dad had a friend who went to highschool with the real Rocky Dennis, however, I don't remember the name of the highschool (I'll have to ask my dad to see if he remembers). Azusa is a great city in L.A. I have several friends who are going to Azusa Pacific.

I really really recommend this film to anyone who has yet to see it and even if you've seen it countless times it's worth it to own it.
Wonderful acting, very realistic, great makeup effects, good music.

I honestly can't think of any weaknesses.
Rewind Rating
The Movie Data
Jump To: Music & Soundtrack Vibes
Or use the menu to navigate
1985 Universal
1999-2020 fast-rewind.com
V4_27 Powered by Rewind C21 CMS