FILMFACTS
PRODUCTION

"
Part man. Part machine. All cop. The future of law enforcement.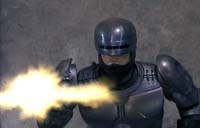 Production
Go behind the scenes on the 1987 Action / Adventure movie starring Peter Weller, Nancy Allen, Dan O'Herlihy, Ronny Cox
Miguel Ferrer, Kurtwood Smith, Robert DoQui, Ray Wise, Felton Perry, Paul McCrane, Jesse D. Goins, Del Zamora, Calvin Jung, Rick Lieberman, Lee de Broux, Mark Carlton Update Cast
We believe the following info is all legit. If it's bogus or you have additional info, please update us.
I made the suits for about six years through the television series. All Robocop suits were made of neopreme rubber in the first film. This was too heavy weighing over eighty pounds. Peter Weller insisted the suits be made lighter if he was to appear in Robocop 2. The suits in Robocop are actually an intense and surprisingly dark green. But shot under natural flourescent lights, the suit appears to most people a normal steel gray. Suits in future movies were painted blue over silver with yellow and magenta accents. These were made of fiberglass to lighten the suits for Weller.
The director's first choice for the role of Murphy/Robocop was his old collaborator Rutger Hauer; However Hauer turned the role down.
Originally the director had "Robomobile's" mocked up, but wasn't happy with the look. Ford allegedly wanted nothing to do with the picture, as a result the production wound up having to purchase the Taurus's. They weren't Sierras nor where they SHO Taurus's (as in Ertl's model kits), or police package Taurus, they were just off the showroom cars.
ED 209's front facial plate, the grill, was actually a microphone mesh bent out and shaped and fitted into a scale model of ED 209. Look at ED 209, you can tell, it's a huge microphone with legs and guns for arms?
The cars used in the film were the (at the time) brand new 1986 Ford Taurus. Chosen for its futuristic design, they wanted a car the American market would not recognise.
The RoboCop suit was so hot and heavy that Peter Weller was losing 3 lbs a day from water loss. Eventually, an air conditioner was installed in the suit.
All the original Robocop suits were destroyed. Cut up into little five inch squares as per an agreement with the studio and Rob Bottin. He had to store them or destroy them. Unfortunately he opted for the latter. However, he keeps two fully posed Robocop suits painted Robocop 2 style in glass cases in his large living room. Actually all the original sculptures, and animatronics except for perhaps the spike hand were destroyed. As were props and sculptures from Legend and a number of other Rob Bottin films. I managed to salvage the shoulder badge Murphy wears when his arm was blown off.
Its possible but I seriously question the story about the bent microphone grill used for ED209. Certainly not the ones used in the film. Originally an eight inch mockup was made. Based upon that, it was immediately turned into a full sized 7' fully articulated model weighing in at 300 pounds. Everything on ED209 was made of plastic. No metal was used except for some screws and bolts to hold him together. The grill is vaccuformed polystyrene. Phil used real full sized car parts all over the model. When smaller puppets were made they were made to exacting detail from the lifesized model. So it would have been impossible to just bend up a microphone screen. Its possible on the 8" model which was never shot but that one was so small. I didn't work on Phil's crew in San Francisco but I just doubt it.
The sound of Robocop's feet lifting and planting is the sound of our 1000 cubic foot ovens, used for baking foam appliances, being turned off and on.
Robocop's gun is a modified Baretta M93R-AG.
Next Section: Deleted Scenes
Deleted Scenes
There are often scenes cut from the final version of a movie. Sometimes these will have been seen by preview audiences, or be included in Blu-ray or DVD extras etc.
The following missing scenes from Robocop are believed legit. If you disagree or have additional info, please update us.
In There is an extended and more gruesome version of the office room ED-209 accidental death that shows more gunshot wounds, blood and more of the workers trying to pull the plug on the malfunctioning robot. This was restored in a recent DVD release.
Next Section: Alternate Versions
Alternate Versions
Sometimes, there will be several versions of a movie floating about on cable, tv or video etc. Other times, a Director may release a special cut of the movie on Blu-ray or DVD.
Aw, man.. We don't know of
any
alternate versions of "Robocop". If
you know
better, please
add one
for others to enjoy.
It's quick & easy
Jump To: Filming Locations
Or use the menu to navigate
1987 Orion Pictures
1999-2020 fast-rewind.com
V4_27 Powered by Rewind C21 CMS