FILMFACTS
PRODUCTION

Making An Officer and a Gentleman
"
It will lift you up to where you belong.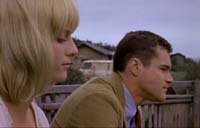 Production
Go behind the scenes on the 1982 Drama movie starring Richard Gere, Debra Winger, Louis Gossett Jr., David Keith
Lisa Blount, Robert Loggia, Lisa Eilbacher, Tony Plana, Harold Sylvester, David Caruso, Victor French, Grace Zabriskie, Tommy Petersen, Mara Scott-Wood, David Greenfield, Dennis Rucker Update Cast
We believe the following info is all legit. If it's bogus or you have additional info, please update us.
Many of the extras were Marine aviators from VMAQ-2 Det Whidbey. I was in the squadron.
John Travolta was offered the leading part of Zack, and to everyone's amazement turned it down so he could concentrate on his jet pilot's license. Richard Gere was reportedly the second choice.
In December of 1995, John Denver was interviewed by Larry King and claimed that he was also offered the leading role in "An Officer and a Gentleman."
The Navy refused to co-operate on the movie, saying that it portrayed their training school life in a negative, unrealistic way.

Brett kindly wrote in with this update: I attended AOCS in Pensacola, 1975, and true enough, there are some liberties with accuracy in the film. The DOR part is generally true - no one DOR's late in the program prior to commissioning, however, there WERE those seeking the Ensign bars with no interest in flying, who quit aviation immediately after becoming an officer. They headed to the "blackshoe" fleet instead.
Gossett Jr. was deliberately told to be unsociable and scowl at his co-stars prior to shooting the scene where he makes his "steers and queers" speech so that the atmosphere between them would be genuinely more realistic and tense.
Lisa Eilbacher, who played the sailor that had trouble with the obstacle course, said the most challenging part of the role was pretending she was out of shape.
The Fort they shot at was Fort Worden State Park, adjacent to Port Townsend, WA. The Blimp hangar is still there but they have since removed the aircraft. See our locations section for more info.
The officer who administered the training in the altitude chamber scene was a genuine Marine Aviator attached to the United States Marine Corps Reserve Helicopter Squadron, based at Naval Air Station (NAS) Whidbey Island, Washington.
The scenes at the paper mill were actually shot at the (then) St. Regis paper mill in Tacoma, WA
Thanks to
John Edward Kilduff
"Up Where We Belong" wasn't the only thing they were having thoughts of not using... Debra Winger was almost rejected from the movie because producer Don Simpson felt she didn't have a particular appeal. Anybody who saw this movie know that's bunk, but Simpson still didn't want her. However, the Paramount executives wanted her, so she remained.
Richard Gere and Debra Winger did not get along at all, but you cannot tell when they were on set.
Many of the extras were from the Marine Corps Silent Drill team Bangor's Own from Marine Barracks Bangor NSB in Bangor, Washington.
I was the bugle player in the scene at the flag pole with Richard Gere and David Keith. I was told that if my real playing was used, my name would appear in the credits. My real playing was used, but I never made the credits.
Next Section: Deleted Scenes
Deleted Scenes
There are often scenes cut from the final version of a movie. Sometimes these will have been seen by preview audiences, or be included in Blu-ray or DVD extras etc.
The following missing scenes from An Officer and a Gentleman are believed legit. If you disagree or have additional info, please update us.
After survival training, during the scene at the bar, Seegar, Mayo and Dela Serra are talking about survival training. Seegar says she can still taste those bugs. They actually did film a scene of that and none of the fake roaches looked realistic enough so they wound up having to eat REAL bugs! Then the whole thing ended up on the cutting room floor!
When I was a little kid, I was an extra in a scene in this movie that was deleted. The scene was an air show and was filmed I believe at Boeing field (i Was really young so I don't remember). I believe two of the characters were supposed to get into a fight. The director would point up to an imaginary plane and then have the crowd pretend they were watching this fake plane. Shot on a small grandstand. I looked at the deleted scenes part of the DVD but it was not there. Anyone know what happened to it??? My dad told me it was cut because some of the extras were laughing.
Next Section: Alternate Versions
Alternate Versions
Sometimes, there will be several versions of a movie floating about on cable, tv or video etc. Other times, a Director may release a special cut of the movie on Blu-ray or DVD.
The following versions of An Officer and a Gentleman are apparently real. If you disagree or have additional info, please update us.
In the theatrical version of the film, Gunnery Sgt. Emit Foley says that the only things that come out of Oklahoma are "steers & queers." The TV version changed this statement to "gays & strays."
Some of the music in the video version has been changed, notably the ZZ Top, Pat Benatar, Dire Straits & Van Morrison songs.
TV versions change the chants repeated by the group while marching and by Zack marching in the mud, to contain fewer references to ethnicity & sex.
Jump To: Filming Locations
Or use the menu to navigate
1982 Paramount Pictures
1999-2020 fast-rewind.com
V4_27 Powered by Rewind C21 CMS