FILMFACTS
PRODUCTION

"
The music and break dance explosion of the summer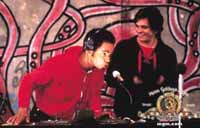 Production
Go behind the scenes on the 1984 Dance / Music movie starring Guy Davis, Leon W. Grant, Rae Dawn Chong, Jon Chordiet
Robert Taylor, Jon Chardiet, Saundra Santiago, Lee Chamberlin, Mary Alice, Shawn Elliott, Jim Borrelli, Dean Elliott (II), Franc. Reyes, Wilfred Fowler, Tina B., Andy B. Bad, Bernard Fowler, Melle Mel, King Louie, Tommy Gunn, Flip Rock, Prince Ken Swift Update Cast
We believe the following info is all legit. If it's bogus or you have additional info, please update us.
The graffiti highlighted throughout the film was actually painted by set artists not real graffiti artists. Graffiti consultants to the film were Bill 'Blast' Cordero (who worked on Studio 54's Graffiti party) and Phase II Lonny Wood. Phase II went to De Witt Clinton High School in the Bronx and was one of the first graffiti artists to gain exposure & notoriety in NYC for his work on subway trains. He was also an African American graffiti artist, whereas, like Ramon, a large number of the early graffiti artists from the Bronx were Puerto Rican. With credentials like that it begs the question why they weren't asked to do the artwork themselves.
Ramon's character was actually based on a real life graffiti artist 'Seen' who was featured in the PBS documentary on all things hip hop in the Bronx 'Style Wars'.
Most, if not all, of the empty lots shown in the South Bronx in the movie are now 1 and 2 bed family homes. The lots no longer exist. The church that was shown in Ramon's building, when his Dad screamed at him from the window is still there. The name has changed, but the church is still there!
Next Section: Deleted Scenes
Deleted Scenes
There are often scenes cut from the final version of a movie. Sometimes these will have been seen by preview audiences, or be included in Blu-ray or DVD extras etc.
The following missing scenes from Beat Street are believed legit. If you disagree or have additional info, please update us.
The Roadshow Trailer contains other deleted scenes from The main Trailer (which also contains rare footage). There's extra bits from the Famous Roxy Battle as well as different camera angles.
Next Section: Alternate Versions
Alternate Versions
Sometimes, there will be several versions of a movie floating about on cable, tv or video etc. Other times, a Director may release a special cut of the movie on Blu-ray or DVD.
Aw, man.. We don't know of
any
alternate versions of "Beat Street". If
you know
better, please
add one
for others to enjoy.
It's quick & easy
Jump To: Filming Locations
Or use the menu to navigate
1984 Orion Pictures / MGM
1999-2020 fast-rewind.com
V4_27 Powered by Rewind C21 CMS