FILMFACTS
PRODUCTION

"
Shocking, Shameless, Sinful, Wicked. And the party hasn't even started.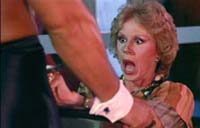 Production
Go behind the scenes on the 1984 Comedy movie starring Tom Hanks, Tawny Kitaen, Adrian Zmed, George Grizard
Michael Dudikoff, George Grizzard, Barbara Stuart, Robert Prescott, William Tepper, Wendie Jo Sperber, Barry Diamond, Gary Grossman, Bradford Bancroft, Martina Finch, Deborah Harmon, Tracy Smith, Florence Schauffler, Sumant, John Bloom (III), Kenneth Kimmins, Gerard Prendergast Update Cast
We believe the following info is all legit. If it's bogus or you have additional info, please update us.
Paul Reiser and Kelly McGillis were replaced after a week of shooting had been completed (which followed a week of rehearsals). Reiser and McGillis were replaced by the head of the studio (20th Century Fox) who at the time was Joe Wizan. The director was very happy with his cast but Mr. Wizan insisted. The production temporarily shut down, the rest of the cast was kept on payroll for a three week period while actors were screen tested for the two lead roles. Tawny Kitean was cast from those screen tests. The actors who tested, among them the late Dino Martin, Jr. and David Naughton (American Warewolf in London, Dr Pepper commercials), were not cast. Tom Hanks did not screen test. But, after having passed on the role a few months earlier (before Reiser was cast), Hanks was again approached and offered the role. This time Hanks accepted, the character's name was changed from Richie to Ricky, and he was paid $15,000 a week. He had already shot 'Splash' but it was not yet released. Some months after principal photography was completed, there was a day or two of additional filming. By then, 'Splash' had been released and was a hit...and Hanks was, to the delight of the producers, a new movie star.
The cocaine-snorting donkey allegedly came within seconds of dying on the set. It was given a little too much of the downer drug that was used to make it appear dead. The stimulant that brought it back didn't seem to kick in for a number of anxiety-producing minutes. While the animal wrangler on duty worked feverishly, the cast and crew stood and watched silently, picturing the next morning's potential 'Variety' headline: " Director Neal Isreal kills innocent animal in pursuit of movie laughs!" After the animal revived, the wrangler did his best to hide just how close the animal came to not waking up. Although, when asked privately how close the call was, he replied, "Five, maybe ten seconds."
After the re-casting, the company had another pre-shoot table reading of the script. It was clear within the first minute that Hanks was a powerhouse with an easy manner and talent.
The scenes that were shot during the original first week were all shot again. Barry Diamond was cast to replace Andy Baumatai. The scene in the doctor's office with William Tepper as Hanks' brother was shot on day one with Paul Reiser, then shot again with Hanks on the last day of shooting.
Next Section: Deleted Scenes
Deleted Scenes
There are often scenes cut from the final version of a movie. Sometimes these will have been seen by preview audiences, or be included in Blu-ray or DVD extras etc.
Shucks.. We don't know of
any
cut scenes from "Bachelor Party".
Can you help?
Please
add one
for others to enjoy.
It's quick & easy
Next Section: Alternate Versions
Alternate Versions
Sometimes, there will be several versions of a movie floating about on cable, tv or video etc. Other times, a Director may release a special cut of the movie on Blu-ray or DVD.
Aw, man.. We don't know of
any
alternate versions of "Bachelor Party". If
you know
better, please
add one
for others to enjoy.
It's quick & easy
Jump To: Filming Locations
Or use the menu to navigate
1984 20th Century Fox
1999-2020 fast-rewind.com
V4_27 Powered by Rewind C21 CMS