REWIND
REVIEW

"
The story of a woman's struggle for fame in Hollywood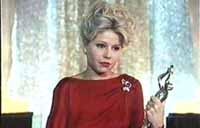 Starring
Pia Zadora, Lloyd Bochner, Bibi Besch, Joseph Cali
Review
Long thought of as among the worst films of all time, the Lonely Lady is the story of Jerilee Randall, a young girl and talented writer.

After a brutal violation with a garden hose she meets Walter Thornton, an older man. Thornton is a popular screenwriter and seduces young Jerilee with his sophistication and charm.

The two quickly marry and Jerilee soon gets her first book published. Eventually the two end up working together on a movie. Jerilee re-writes one of Walter's scenes for the movie which earns it an award. Jealousy soon disintegrates their marriage and they separate.

Now alone, Jerilee sets out to start a career as a screenwriter in her own right. She finishes her screenplay but finds it difficult to find anyone to take it. She becomes involved with an actor and falls pregnant. The actor soon turns out to be a total jerk and Jerilee has an abortion.

Jerilee takes her screenplay to a sleazy nightclub owner who takes the play but makes her work in the club for money. He introduces her to all his friends who Jerilee has to sleep with to make it big. Eventually she sleeps with this husband and wife couple who get her movie made. After abortions, violations, a mental breakdown and sleeping with everyone she possibly can, Jerilee finally picks up best screenplay at 'The Awards'.

This movie is unintentionally hilarious. It's just terrible! From the script to the sex scenes – everything just sinks to new lows and makes you laugh out loud. It's supposed to be a serious, sexy drama, but it's anything but. This movie has won an array of Golden Raspberry Awards over the years including Worst Actress – Pia Zadora (1984), Worst Movie (1984), Worst New Star of the Decade 1980's – Pia Zadora, Worst Drama of the Last 25 Years (2005). It really does deserve every one!

However, it is lots of fun. My favourite scene is where Jerilee descends into madness and ends up in a catatonic state. Thing is, she only has two emotions anyway so it hardly makes much difference.

If you love trashy movies, check it out!
Author:
Jamie Bee
Update This Review
Verdict
Yes, it really is that bad! However, there is enjoyment to be had from this movie. Pia Zadora is one of my favourites and this really was the height of her notoriety as Hollywood's leading bad movie actress.

My '1' rating is because the movie on a critical level is dreadful in every way. However, trash affection ado's will lap this up. Pia Zadora called it a cross between "Emmanuelle" and "Rocky". No comment!
It's hilarious!

So many memorable lines that really should go down in (bad) movie history.

Pia Zadora gets naked.

You have to have an appreciation of trashy movies to enjoy it.

The acting, direction, script - everything is bad!

The soundtrack is horrendous - even that won a Razzie!
Rewind Rating
The Movie Data
Key Crew
Director: Peter Sasdy
Writer: Harold Robbins, Ellen Shepard, John Kershaw, Shawn Randall
Producers: Tino Barzie, Robert R. Weston
Locations Manager:
Update The Crew
Data
Release Date: 30 Sep 1983
MPAA Rating: R
Studio: KGA Industries, Inc.
Production: Harold Robbins International Company, KGA, Universal Pictures
Genre: Drama
Update The Data
The Movie Trailer
Jump To: Music & Soundtrack Vibes
Or use the menu to navigate
1983 KGA Industries, Inc.
1999-2020 fast-rewind.com
V4_27 Powered by Rewind C21 CMS