PLACES
LOCATIONS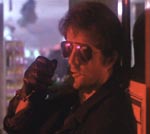 Locations Notes
Rewind the locations where they filmed the 1986 Action / Adventure movie starring Sylvester Stallone, Brigitte Nielsen, Reni Santoni More Cast
Locations Manager(s):
Robert H. Lemer
, Laura Sode-Matteson
Cobra Filming Locations:
Featured
Wanna see the real life filming location used for The "King" Supermarket used in the movie in the movie?

These scenes were actually shot at Drug Emporium Store, located in Redondo Beach, S. California. Google Map
John Cheatham
wrote in to say that the "King" store used for the opening sequences was actually a just-closed "Boy's" market. The store stock shown on screen was real.
Cobra's apartment is in a building on Venice Beach. The Scene where he pushes the gang-bangers car out of the way is funny, since cars are not allowed on the beachfront street.
The scene where the night slasher first see Brigitte Nielsen driving on her jeep is on 300 block of Grand Ave lower lever, Los Angeles, she then turns left on 4th street. [Thanks to Claudio Millan]
The chase scene where the cars are flying over bridges were filmed on Dell Avenue (at Sherman, Howland, Linnie, and Carroll Canals) in Venice over the last remaining Venice canals. They had to show it from several different angles, since the canal area is only four short blocks long. [Thanks to Tom]
I believe freeway 41 in Fresno (ends up in Yosemite national park) was used at least in part for freeway scenes in Cobra. At the time a few mile stretch north of shaw or bullard was under construction and almost open to the public. I cant be more specific, but I remember hearing about on the news when I was young. [Thanks to solidc]
The famous rock store was used. It's well known by all motorcycle riders in southern calif. There are a few stretches of road you see in all sorts of movies out between fillmore and the 5 freeway then telephone road between ventura and santa paula again used over and over in many movies. [Thanks to Debora]
Can you help? Please

Update This
Locations Links
If you know of a good link for Cobra locations, please let us know.
LX Preview
LX is our radical new locations feature that we've been beavering away on.. For years!

Each location will have it's own page with then/now pictures, maps, StreetView, discovery story and the most detailed explanations on how the location was used. Most importantly, the locations will have a status that shows whether they are verified correct and by whom. We are working with the actual locations managers or other crew where possible. The whole thing will be very interactive and you will, of course, be able to update everything.
Jump To: Bungles & Goofs
Or use the menu to select another option
1986 Cannon Films / Warner Bros
1999-2018 fast-rewind.com
V4.0b Powered by Rewind C21 CMS