REWIND
REVIEW

"
It is debatable that this is a good movie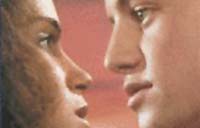 Starring
Kirk Cameron, Jami Gertz, Roy Scheider, Amanda Peterson
Tim Quill, George Wyner, Anthony Zerbe, Christopher Atkins, Quinn Cummings, Timothy Dang, Peter DeLuise, Jason Gould, Jon Matthews, Christopher Rydell, Tom Schanley, Dan Schneider Update Cast
Cameos
Look for Yeardley Smith, Moon Unit Zappa making a cameo appearance!
Review
"Listen To Me" is an excellent drama, although you could probably only love this movie if you were ever on a college debate team.

The film stars Kirk Cameron and Jami Gertz as college students who are attending Kenmont College on debate scholarships. Kirk Cameron's character, Tucker Muldowney, gets nicknamed "The Chicken Man" because his father is a chicken farmer.

Jami Gertz's character, Monica Tomanski, is nicknamed Chicago after her home town. Monica is apparently Polish and the movie begins with her kissing a Moose head at some kind of bar, Tomanski's Polish Joke, yet nobody ever calls her a Polack during the movie.

During the film, Edward Arlington Robinson's poem "Richard Cory" is recited to good effect which is in keeping with the intellectualism of this heavy drama. At one point, Tucker brags about a 5 grand computer which looks like a very old Mac with a monochrome screen that would be worth $10.00 today.

Kenmont College's mascot is a seal which explains why the students do the seal clap and bark like seals. When you first view the movie, you almost think this is some kind of "debate thing" they do. For some reason, there is a caricaturist seen occasionally doing unflattering drawings of his fellow students.

In the final scene, Tucker and Monica debate the Harvard debating team before the Supreme Court Judges to win the National Debate Tournament, an actual event (see their web site http://www.wfu.edu/organizations/NDT/). You'll also notice many references to CEDA (Cross Examination Debate Association). Yes, the screen writer really did his homework for this movie.

It is very amusing to see how seriously the characters take the wonderful world of debate, although at least one character would rather be a writer. He gets hit by a car for this sacrilege.
Author:
Robert Robbins
Update This Review
Verdict
"Listen To Me" is a rather bland drama but it is worth viewing to see Muffy Tepperman (as Jami Gertz was known on the TV show Square Pegs) in her college days.
Intellectually stimulating.

The college debate circuit is of little interest. Characters are always spouting off about the moral decay of society.
Rewind Rating
The Movie Data
Jump To: Music & Soundtrack Vibes
Or use the menu to navigate
1989 Weintraub Entertainment
1999-2020 fast-rewind.com
V4_27 Powered by Rewind C21 CMS