REWIND
REVIEW

"
Neil Simon strikes again!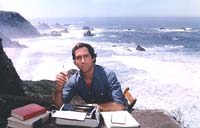 Starring
Goldie Hawn, Chevy Chase, Charles Grodin, Robert Guillaume
Seems Like Old Times was full of dilemma's for poor Glenda, including her inability to read Aurora's recipe for Chicken Pepperoni, which was in spanish! Glenda had to improvise, but fortunately the Govenor loved it. Here is the recipe(in English thank goodness!) for anyone who is interested in this tasty "Seems Like Old Times" dish!

CHICKEN PEPPERONI
1/4 cup extra virgin olive oil
20 boneless chicken tenders
1 cup red pepper-sliced thin
1 cup green pepper-sliced thin
1 cup mushrooms sliced
8 artichoke hearts-chopped
16 pepperoni slices (1/4 pound)
2 cups chicken stock
1 cup marinara
1/4 cup locatelli cheese
1/4 cup dry white wine
1 teaspoon garlic powder
1 teaspoon onion powder
1/2 teaspoon black pepper
1 tablespoon butter

Heat olive oil in saute pan and add chicken and peppers. Saute for 2-3 minutes and turn chicken over for 2-3 minutes. Add mushrooms, artichoke hearts, and pepperoni and continue to saute for 5 or more minutes. Add chicken stock, marinara, cheese, wine, powders and black pepper. Simmer for 5 additional minutes. before serving, add tablespoon of butter rolled in flour (to coat), stir, and serve in a bowl.
More Trivia from Seems Like Old Times
Review
What happened to Nick Gardenia on that fateful day could either be a writer's dream-come-true novel sequence, or a writers worst nightmare come true...

While Neil Simon's romantic comedy commences, we get an aerial view of the gorgeous city of Carmel, sure to pacify even the worst case of writers block. Nick (Chevy Chase) is taking full advantage of his seaside haven, innocently snacking away in his modest diggs, when who should pop up uninvited at his door but two armed criminals.

The men need Nick's help and won't take no for an answer, so unwillingly but comically Nick robs the bank for the two bandits and almost gets away scot free until he accidently runs smack dab in front of a security camera....which incidently reunites Nick into the lives of his ex-wife, lawyer Glenda and her District Attorney husband Ira Parks.

Nick's reemergence into the Parks's lives could not have come at a worse time. Ira Parks has just been promoted to the D.A. position and he has invited the Govenor of California over to his and Glenda's exquisite Brentwood mansion to discuss campaign ideas. Glenda Parks is consumed in keeping her illegal-alien house staff out of trouble's way and somehow keeping track of her half a dozen raucous canines.

Nick, however, is in dire straits and despondently needs his ex's help. It seems it is Nick's fate to be framed (the first time he was framed he had to spend two years in a Mexican prison) and this second time is no exception. Although like a pesky fly that they cannot seem to shoo away, Glenda instinctively feels that Nick is innocent and so agrees to help him out, even though in doing so she's gambling her career and her marriage.

The film leads the viewer through a fast-paced, voyeuristic view of life, mainly through the eyes of Glenda, whose life has been completely turned upside down.

Between providing Nick with food and shelter, attending court meetings, keeping track of her dogs and staff, keeping Ira in the dark about Nick's whereabouts and trying to cook a delicious "Chicken Pepperoni" dinner for the Govenor, Glinda is absolutely pooped! All this excitement has Glenda so riled up that she's been suffering from hyperventilation attacks and she's begging Nick to turn himself into the police.

This is my favorite dialogue from the film:

GLENDA: Would you like more chicken?
GOVENOR: More? We haven't had any.
GLENDA: I meant any more.

This film has so many humorous twists and turns that it would take far too much time to list in detail every comical occurance. If the Parks's had their way, they would never seen Nick again, or at least if Ira had his way that would be the case, but how does Glenda feel? Watch this all-star cast comedy classic which is sure to capture your attention and tickle your funny bone to find out!
Author:
Bridgette Marie
Update This Review
Verdict
One of my favorite 80's movies of all time!! I absolutely love Goldie Hawn and this movie is my favorite of hers from the 80's!

It's one of those films where no matter how many times it comes on cable, I'll sit and watch it over and over again. Plus, it's set mainly in a home and I love films like that, they're so relaxing.

I HIGHLY recommend this film to everyone. A+++++ movie, all the way!
Great actors, great romance and comedy, lots of mishaps, cute dogs, chicken pepperoni!!!

Gosh, I can't think of any.
Rewind Rating
The Movie Data
Jump To: Music & Soundtrack Vibes
Or use the menu to navigate
1980 Columbia Pictures
1999-2020 fast-rewind.com
V4_27 Powered by Rewind C21 CMS