REWIND
REVIEW

"
Music is the only way out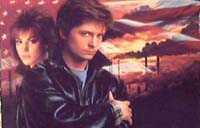 Starring
Michael J. Fox, Gena Rowlands, Joan Jett, Michael McKean
Thomas G. Waites, Cherry Jones, Michael Dolan, Paul J. Harkins, Billy L. Sullivan, Jason Miller, Tom Irwin, Jerry Gideon, Cherise Vonae Haugen, Michael Rooker, Yvette Heyden Update Cast
Cameos
Look for Trent Reznor making a cameo appearance!
This film was actually offered to Bruce Springsteen as a acting project (for what became the Joan Jett role) when he was thinking about going into film acting.

He ultimately passed on this project (and dismissed the idea of going into films altogether).
More Making Of Light of Day
Review
Patti (Joan Jett) and Joe (Michael J. Fox) play every night in a rock band called the 'Barbusters.'

Joe works in a factory, but Patti's life is solely rock 'n' roll, and she indulges in criminal actions in order to sustain her freedom and feed her illegitimate son Benji. Their Mother (Gena Rowlands) doesn't approve of their lifestyle, neither does Joe, who often clashes with the sorts of scum that Patti allows near her son.

When their band goes on tour, Benji is involuntarily used in shoplifting food for the band. Patti, stubborn and defiant, won't listen to Joe's protests and he struggles to please the matriarchal structure in his family.

The subtlety of the film becomes apparent by the eventual revelation of its plot - their mother has cancer and they must try to reconcile before her death.

The film plays host to accomplished acting performances from Michael J. Fox, Gena Rowlands and Joan Jett. It is a mature emotional drama which gives brutal weight to the trials of the dysfunctional family. In the scenes with her dying mother, Jett shines.
Author:
Simon Barber
Update This Review
Verdict
Perhaps the movie's main problem is that it tries to be several different kinds of movie, none of which are explored fully. At first it is a blue-collar, Rock n' Roll story, then an incredibly heavy family drama. Once the touring rock show disbands, the story whips back to the family. It is only once the mother becomes seriously ill that the real power of this movie seeps out.

The film was heralded with advance press as a rock 'n' roll film, and yet in my mind, that aspect of the film is merely the hors d'oeurve to a much meatier course. It is ironic then that Joan Jett, the movie's real-life rock star, gives such a competent dramatic performance. The always dependable Fox also gives a performance of great depth, as the conciliatory factory worker and guitarist.

In truth, it is only occasionally that I would be willing to relax with a copy of 'Light Of Day' - at least past the 'Rock n' Roll section.' Powerful stuff, but as a piece of work by Paul Schrader, you would be correct to assume that it didn't succumb to the trends of the decade like other popcorn-style movies.

Verdict: Starts off as Rock n' Roll... getting heavier... can't get out... if i can... just.. hold.. on...
Great Performances by Jett, Rowlands and Fox. Good music.

Tries hard to be too many kinds of movie. A little heavy for your standard Rock 'n' Roll fare.
Rewind Rating
The Movie Data
Data
Release Date: 06 Feb 1987
MPAA Rating: PG-13
Studio: Taft Entertainment Pictures
Production: Home Box Office (HBO), Keith Barish Productions, TAFT Entertainment Pictures
Genre: Drama
Update The Data
The Movie Trailer
Jump To: Music & Soundtrack Vibes
Or use the menu to navigate
1987 Taft Entertainment Pictures
1999-2020 fast-rewind.com
V4_27 Powered by Rewind C21 CMS