REWIND
REVIEW

"
His family worked the land ... Her family owned it!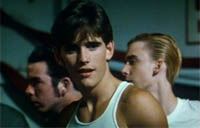 Starring
Matt Dillon, Hoyt Axton, Cindy Fisher, Margaret Blye
Review
In Noble Texas, the movie starts in black and white as a woman with a baby goes to visit a doctor's office. The nurse asks the woman if she's sure she wants to go through with this. She says yes, enters the doctor's office and is told the blood test results for her baby.

18 years later, working class Jack Duncan (Matt Dillon) meets Ginny Peterson (Cindy Fisher) during a greased pig contest at the county fair, where he gets her all muddy while trying to win. She's the daughter of the town's wealthy banker-who was also Jack's mom's high school sweetheart-and has been at boarding school for the last four years.

Later he apologizes and buys a kiss from her for a quarter at the charity booth. The next day at a swimming hole, Jack and crude friend Mike decide to play a prank on their friend Bobby, who they think is coming around the corner. It's actually Ginny and her friend Karen on horseback, and Ginny lands in the mud again. They meet again at the movie theater when the people they're with get kicked out, and Ginny calls a truce with Jack.

She invites him over to her house-but afterward his attempts to pursue her are intercepted by her father. Jack's father Cecil dies when a truckload of metal pipes crushes him. Ginny goes to Cecil's funeral; then later she comes to his house with food her mother made and condolences. Jack confronts her about avoiding his calls, and they realize their parents are keeping them apart. They begin meeting in secret, but one night when Jack's truck breaks down and Ginny comes home late, her father forbids her from seeing Jack ever again.

At an Independence Day dance. Ginny's date Richard accepts a drinking challenge from Mike and Bobby, who agree to help the couple after Karen gives them a private peep show at an arranged time as they watch outside her window. Mike misses the show thanks to a small aggressive dog. After dancing and kissing, Jack and Ginny talk about the future-which include Ginny's father probably finding out about them and Ginny being accepted to Vassar. Jack talks Ginny into going with him to Louisiana, where 17-year-olds can marry without their parents' permission.

Jack gets a job in the oil fields while Ginny learns to cook, sew and earn money for doing chores in the boarding house they now live in. Ginny's dad hires a menacing private eye (Richard Moll) to find them. Ginny becomes pregnant, but before she can tell Jack, her doctor contacts her previous physician who reveals that she and Jack are actually brother and sister. Not wanting to lose Jack, Ginny enlists the help of Lora Mae Bouvier (Susan Tyrrell) a friend in the boarding house-who works as a prostitute. Ginny asks about a midwife who has assisted women who didn't want to have babies. Meanwhile back in Noble, Jack's mom confesses that she lied about Alex being Jack's father with the help of her friend who worked in the doctor's office.

The surgery goes badly, Jack finds Ginny after forcing Lora Mae to tell him where she is and tries to rush her to the doctor. The private eye has caught up to them and chases them. First he tries to run them off the road then shoots out their tire forcing them to stop. He and Jack struggle and another shot is fired. Ginny screams Jack's name and he quickly comes to get her and put her in Logan's car. At the doctor's office, Jack's mom and Ginny's parents wait with Jack in the waiting room as he struggles with what they've done.

There were two alternate endings: the first one ends with Ginny dying, but test theater audiences found it too sad. In the other, she lives. There's a rumor that a third version exists, where Ginny does not have an abortion at all-though this has not been confirmed.
Author:
Bamersy
Update This Review
Verdict
This was one of my favorite movies of the 80's. I watched it every chance I got and was in love with Matt Dillon! It was very sincere, when Ginny finds out that Jack is her "brother", her devastation is believable. Wonderful musical interludes and honest emotions make this movie one of a kind!
Believable acting, three dimensional characters, and a great mix of love, loss with a little bit of comedy thrown in :)

No soundtrack available for one. I special ordered the VHS in the early 90's from Sears. First time I watched it has a feeling of dread towards the end-which turned out to be the one where Ginny dies...
Rewind Rating
The Movie Data
Key Crew
Director: David Fisher
Writer: David Fisher
Producers: Don Behrns
Locations Manager: Barry Bernardi
Update The Crew
Data
Release Date: -- Sep 1982
MPAA Rating: PG
Studio: Crown International Pictures
Production: Hanna Productions
Genre: Drama
Update The Data
The Movie Trailer
Jump To: Music & Soundtrack Vibes
Or use the menu to navigate
1982 Crown International Pictures
1999-2020 fast-rewind.com
V4_27 Powered by Rewind C21 CMS