REWIND
REVIEW

"
It only looks like the good life.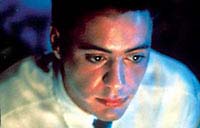 Starring
Andrew McCarthy, Robert Downey Jr., Jami Gertz, James Spader
Tony Bill, Nicholas Pryor, Donna Mitchell, Michael Bowen, Sarah Buxton, Lisanne Falk, Michael Greene, Neith Hunter, Afton Smith, Brian Wimmer, Kelly Wolf, David Colby, Brittain Frye Update Cast
Early Appearances
See Brad Pitt before they were famous!
Cameos
Look for Flea, Anthony Kiedis, Jack Irons making a cameo appearance!
I have read Less Than Zero and read a lot of interviews the author has given and he always says that Clay is the least auto-biographical of all his characters. I don't think he means that he isn't similar to the character in some ways, but oddly enough he said in this one interview that Patrick Bateman (American Psycho and brother to Sean Bateman from Rules of Attraction) was the most autobiographical work he's done (minus the murders.) P.s. The book puts the movie to shame.
More Trivia from Less Than Zero
Review
Clay (McCarthy) is an 18 year-old freshman returning to L.A. for Christmas after the first term at college in New Hampshire. He is disillusioned with the lifestyle and the disjointed, but wealthy, family that he has tried to put behind him.

His one-time love, Blair (Gertz), is tenuously involved with Julian (Downey Jnr), Clay's ex-best-friend. Blair is concerned that Julian is in peril, with a cocaine addiction and huge debts to the volatile and sadistic drug-dealing pimp, Rip.

The unfolding series of events leads Clay to a Beverly Hills beyond the veneer of perfection of the upwardly mobile. Where he witnesses the drug-fuelled malaise leading so many of his old friends into a life of perversion, violence and a bloody conclusion.

This film points an unforgiving finger at the excesses of the 80's and takes us into the underbelly of a life that so many wished they could lead and so many wished they could forget.
Author:
Jonny Mason
Update This Review
Verdict
The movie's three central performances are near-flawless…

Gertz, as the panicked young woman watching the disintegration of her friend as she deals with demons of her own; McCarthy, as the reserved, almost cold witness now outside this group, ready to leave it behind and especially by Downey Jr. whose acting here is so real, so subtle and so observant that it's scary.

The whole movie looks as brilliantly superficial as any music video and so Downey Jr's predicament is all the more poignant (even more so when one considers Downey's real-life drug problems).
Well-acted (especially by Downey Jr.), riveting story.

Downey's character should have had more screen time.
Rewind Rating
The Movie Data
Jump To: Music & Soundtrack Vibes
Or use the menu to navigate
1987 20th Century Fox
1999-2020 fast-rewind.com
V4_27 Powered by Rewind C21 CMS