REWIND
REVIEW

"
What a way to start the year.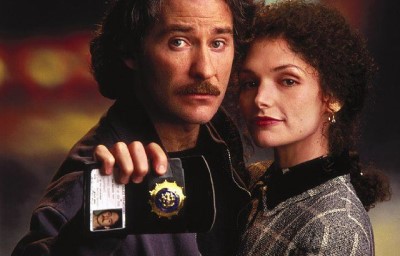 Starring
Kevin Kline, Susan Sarandon, Mary Elizabeth Mastrantonio, Harvey Keitel
Danny Aiello, Rod Steiger, Alan Rickman, Faye Grant, Kenneth Welsh, Jayne Haynes, Brian Tarantina, Bruce MacVittie, Bill Cobbs, Greg Walker, Tandy Cronyn, Gerard Parkes, Errol Slue, William Christian, Ann Talman, Bill Cwikowski Update Cast
Review
The setting is New York on New Year's Eve.

A wealthy socialite is strangled to death in her home right as the new year begins and more will follow, occuring once a month. Mayor Eamon Flynn (Rod Steiger), under media pressure, tells Comissioner Frank Starkey (Harvey Keitel) he has no choice but to reinstate the one man who is brilliant enough to find the killer: Nick Starkey (Kevin Kline), his brother.

Nick, fired by his brother due to a scandal which he took the fall for, is understandably not happy to see him. Working as a firefighter, he reluctantly accepts, knowing this is better than going into burning buildings. He agrees on one condition: that he be allowed to cook dinner for Frank's wife and his own ex, Christine (Susan Sarandon).

With his pal/assistant Ed (Alan Rickman) in tow, along with the mayor's daughter Bernadette (Mary Elizabeth Mastrantonio) and the constant yelling from Captain Alcoa (Danny Aiello), Nick sets out to find a pattern and crack the case. As he does, he starts to find a pattern and he will have to set a trap without the help of the NYPD.

Released in 1989 and quickly overshadowed by other films, "The January Man" is an odd mix of comedy and murder mystery. Written by John Patrick Shanley (of "Moonstruck" and "Joe Versus the Volcano" fame), it is believed by many that the studio changed it into a comedy and ruined it.

However, there is an interesting film here. Just don't take it seriously.

Kevin Kline is in good form as the disgraced Nick, getting across his bitterness towards Frank whilst still sympathetic to him, other actors may have made him an a**hole.

Harvey Keitel, as Frank, does play it subdued when he should be intense, but still comes off well, especially when we get the feeling he has something to hide.

Rod Steiger yells, screams, and overacts only as Rod Steiger can and you'll love every minute of it. In many scenes he looks like he's about three minutes away from a coronary. (In one scene, I think you can see the veins in his head throbbing!) Apparently he and Danny Aiello went to the same school (Aiello does the same schtick).

Susan Sarandon is good with the thankless role of Christine, while Mary Elizabeth Mastrantonio is merely OK as Bernadette. She just wasn't memorable.

The second-best job in this film comes from Alan Rickman, as the eccentric Ed. Even when given a script as confusing in tone as this, he still gives it his all. Just watch this for evidence.

Like mentioned before, John Patrick Shanley's script is a bit confused in tone. It's not the dialogue that turns people off the film, it's the confusion over whether it wants to be a comedy or a thriller and it is widely believed the studio may have ordered it changed, but you may never know. There are some memorable bits though (the scene where we meet Ed for the first time is a good example). Credit must be given to the ending, as it's very true to real life (Nick's line about the January Man sums it up).
Author:
Kyle Palkowski
Update This Review
Verdict
If you're expecting a gripping thriller or a laugh-a-minute comedy, forget it. If you want a nice way to kill an hour and a half with a good cast and some darkly humorous chuckles, congratulations.

The confusion of tones makes this a "not for everyone" movie, and knock this down to a 6.
Good cast, good performances, some memorable moments, Rod Steiger's overacting.

The confusion of tones, thriller one moment and comedy the next.
Rewind Rating
The Movie Data
Jump To: Music & Soundtrack Vibes
Or use the menu to navigate
1989 MGM/UA
1999-2020 fast-rewind.com
V4_27 Powered by Rewind C21 CMS