REWIND
REVIEW

"
100 years ago the world was shocked by a man they called The Ripper. He was never caught...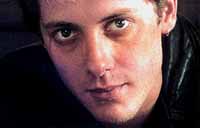 Starring
James Spader, Cynthia Gibb, Robert Picardo, Rod Loomis
Rex Ryon, Jim Haynie, Chris Mulkey, Wendell Wright, John Wesley, Bobby Hosea, Danitza Kingsley, Anne Betancourt, Diane Erickson, Sis Greenspon, Graham Timbes, Mario Machado, Paul Du Pratt, Rana Ford, Daniela Petr, Shawne Rowe, Kevin M. Glover, John Harrison Update Cast
Review
It's Los Angeles, 1988.

One hundred years since the Jack the Ripper murders in London and someone is stalking the city's streets, killing prostitutes on the corresponding dates and in corresponding manners to the Ripper's own killings.

The police, including Sgt. Gabriel, played by Jim Haynie (Bulworth and Stephen King's The Stand) are baffled as to the killer's identity. They have even hired psychologist Carlos Battera (Robert Picardo) to try to draw up a profile on the killer, but they have come up with little evidence. Tonight is the night of the next murder, the victim of which, it is known, will be a pregnant woman...

"Jack's Back" is a clever little Jack the Ripper inspired thriller starring James Spader in a dynamic performance in which he plays dual roles; as crusading med student John Westford and his bad boy twin brother Rick.

John (Spader) is a med student with a heart, who works a residency in a free clinic in the run-down neighborhood of his youth and spends his free time giving TV interviews, telling anyone who'll listen that the homelessness problem in Los Angeles is not going to go away until the local politicos start to accept that these people are not a faceless problem, but people who need our help.

A genuine nice guy and potentially a good doctor, John's co-worker, the pretty Cynthia Gibb is quite infatuated with him and his boss, Rod Loomis, is aching to fire his best student because he spends too much time with all of these lost causes.

John's good day is disrupted when we see Loomis refusing to give an abortion to a pretty prostitute who he says is a few days past the legal limit for abortion. He is rough with her verbally and a moment of recognition flashes over his face. He knows her.

Jack, a burly, quiet co-worker at the clinic, goes to the girl's apartment and offers to give her the abortion... What he doesn't know is that John shows up as well. It turns out that this girl and he used to date and he wants to see how she is, how she's become what she's become. By the time he gets to the room, the girl is dead and Jack is covered in her blood. A chase insues, with Jack insisting his innocence.

Jack, in a panic, strangles John to death. The police will blame him for the killing.

Across town, Jack's brother Rick, who has a criminal record and has trouble with the law, dreams of his brother's death. He tells the police that his brother is not the killer and that another man committed both murders, they do not believe him. With the help of Chris (Gibb), who does not want to believe that John could have committed these crimes, John must prove his brother's innocence and find the killer before he strikes again.

Is Jack the killer? Is there someone else out there lurking behind all of this? In "Jack's Back," twists (and hypnosis induced flashbacks) abound, and no one is who they seem.

There is only one problem. He has become the police's new number one suspect...

Rowdy Herrington's script is full of plenty of chills and thrills, and enough twists to make this journey more than formulaic. It is a horror movie at it's core, the kind that relies on dark alleys and perspective shots of killers looking through windows rather than an excess of blood and gore.

Herrington's direction is brisk and bracing and while this is not an Oscar-caliber flim, it's a lot better than it has any right to be. The Jack the Ripper theme has been played so many times, for better or for worse and this is one of the more inventive plays on the sub-genre.

The supporting players are okay, but this is Spader's film. One of the most under-rated actors of his generation, Spader really shines here in playing each brother as a character and not extentions of the same character. While John is all smiles and good intentions, Rick is a dark figure, who carries with himself a certain sense of ambiguity. He may very well be the killer, for all you know and it takes a great performance to make us ask those questions seriously.

Simple and well-scripted, this is one of the better 80's thriller entries.
Author:
Dennis O'Brien
Update This Review
Verdict
This isn't a great film. Some of the dialogue feels a little stilted, and the whole Jack the Ripper thing really has been played to death by now.

However, Herrington has enough tricks up his sleeve to keep us interested, and Spader's performance is one of his very best.
Spader's performance, Herrington's delightfully twisty script.

The supporting performances are only so-so, the dialogue gets a little stiff here and there, and naming the suspected Ripper Jack is a little cheesy, whether he committed the crimes or not.
Rewind Rating
The Movie Data
Jump To: Music & Soundtrack Vibes
Or use the menu to navigate
1988 Paramount Pictures
1999-2020 fast-rewind.com
V4_27 Powered by Rewind C21 CMS