REWIND
REVIEW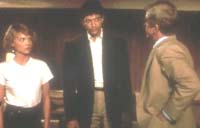 Starring
Jeff Goldblum, Michelle Pfeiffer, Stacy Pickeren, Dan Ackroyd
Carmen Argenziano, Richard Farnsworth, John Landis, David Bowie, Dan Aykroyd, Dick Balduzzi, David Cronenberg, Wes Dawn, Sue Dugan, Richard Franklin (II), Christopher George (II), John Hostetter, Ali Madani, Andrew J. Marton, Robert Moberly, Robert Paynter, Stacey Pickren, Elizabeth Solorzano, Cal Worthington, Michael Zand Update Cast
Cameos
Look for David Cronenberg, Amy Heckerling, Jonathan Demme, Jim Henson, Don Siegel, Daniel Petrie, Jonathan Lynn, Lawrence Kasdan, Roger Vadim, John Landis, Rick Baker making a cameo appearance!
Among the directors doing cameos are: David Cronenberg, Amy Heckerling, Jonathan Demme, Jim Henson, Don Siegel, Daniel Petrie, Jonathan Lynn, Lawrence Kasdan, Roger Vadim and John Landis himself.
More Trivia from Into the Night
Review
Jeff Goldblum plays Ed, a depressed insomniac with a dead-end job and a tedious life.

After he catches his wife in bed with another man he abandons his safe suburban existence in favour of nocturnal prowlings in L.A.

One night, while in the parking lot of LAX, Ed encounters Diana, a mysterious blonde played by Michelle Pfeiffer, who's on the run from a group of killers. Diana jumps in Ed's car and the two escape "into the night."

This is the beginning of an endless chase through the streets of Los Angeles as the unlikely duo find themselves being pursued by Iranians, a British hitman, a French jewel thief and a bunch of other lively characters, most of whom are really Hollywood directors doing cameos.

This bizarre, inventive and delightfully offbeat thriller is one of John Landis's most enjoyable, yet most underated, film. His use of the various LA locations is inspired to say the least. As Ed and Diana race from the yachts of Marina Del Rey via Rodeo Drive to the Marion Davis mansion in Beverly Hills, he creates a vivid atmosphere of dreamy suspense and a unique perception of Los Angeles as a mythical, mysterious city.

The two lead performers are excellent and maintain solid chemistry throughout. Goldblum is at his deadpan best, while Pfeiffer takes the ditzy "damsel-in-distress" role to frightening new heights. While the cameos might seem excessive and self-indulgent to the casual viewer. Some, like David Bowie's appearance as mobster are real gems.

The film has often been ridiculed for having a limited appeal towards film buffs rather than general audiences(due to the endless cameos and in-jokes). Those critics may have a point, but I propose a different theory. INTO THE NIGHT is a movie for people who KNOW John Landis and his trademark touches as a director. If you can recite THE BLUES BROTHERS word for word then you'd most likely enjoy this.

Either way I say the following with strong confidence: INTO THE NIGHT is the greatest "late-night" movie ever made. It was specifically designed to be watched when there's nothing on TV and you can't sleep and since its main protagonist has insomnia, it's pure genius!
Author:
Christopher Attrill
Update This Review
Verdict
Engaging, episodic adventure with a high sence of fun and a script full of unexpected plot twists and one-liners.

You'll never want this night to end.
Campy, off beat and inventive. Great comic performances.

Film buffs and John Landis fans will enjoy it more.
Occasionally slow pacing.
Rewind Rating
The Movie Data
Jump To: Music & Soundtrack Vibes
Or use the menu to navigate
1985 Universal Pictures
1999-2020 fast-rewind.com
V4_27 Powered by Rewind C21 CMS