REWIND
REVIEW

"
Beverly Hills and the civilized world will never forget them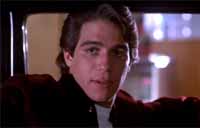 Starring
Robert Wuhl, Tony Danza, Fran Drescher, Leigh French
Randy Gornel, Gary Graham, Sandy Helberg, James Jeter, Stuart Pankin, P.R. Paul, Michelle Pfeiffer, Gailard Sartain, Julius Averitt, Richard Schaal, Steve Ballard, Phil Berle, Herbert Bress, Denyse Diane, Virginia Petto, Charles Stewart, Val Zeller, Mike Binder, Joey Camen, Daniel Davies, Duane LaDage, Rhonda Black, Wes Black, Dennis W. Cothran, Ray O'Bryan, Jerry Brutsche Update Cast
Cameos
Look for Chuck Cooper making a cameo appearance!
Duke's yellow '57 Chevy was "Popular Hot Rodding" magazine's famous "Project X" test car.

The transmission was damaged during filming (you can see the smoke roll over the top of the car when the engine gets hurt during the race with the Cobra).
More Trivia from The Hollywood Knights
Review
It's Halloween night, 1965.

It is a sad night for the local teens who hang out at Tubby's Drive-In, for tomorrow it will be closed for good.

This especially holds true for the Hot-Rod gang, The Knights, who raise hell at Tubby's, on the streets, or anywhere else for that matter. They will do all they can to make this final night as memorable as possible.

Lead by their raucous and quite comedic leader, Newbomb Turk (Robert Wuhl), The Knights are holding an initiating ceremony tonight for some pledges who may not know what they are about to get themselves into.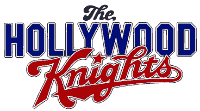 It won't be an easy task that they will embark on tonight, but they will give it their best shot to join this elite club of pranksters. It doesn't help either when you have the local cops following your every move, no matter how dumb they are.

Along the way, you'll enjoy a fun filled evening featuring a unique talent show, a high school pep rally, a school dance, a ton of practical jokes, and some other interesting events.

Sit back and enjoy the ride that is "The Hollywood Knights".
Author:
80'sRocked
Update This Review
Verdict
That's the basic plot folks... Yes, that's it!

Doesn't sound like much of a movie you say, but for this flick, less is more! In my opinion, this is an absolute must see for any fan of 80's movies.

To tell you the truth, I am surprised at how many movie guru's have never even heard of this classic. Sure it is raunchy, dirty, sexist, disgusting, and quite pointless at times, but brilliant! What a cast for one... Tony Danza, Michelle Pfeiffer, Fran Drescher, and the feature film debut of Robert Wuhl.

Also features a great soundtrack of classic tunes from the 50's and 60's! Having a similar feel to American Graffiti, I say go out and buy this movie right away and you won't be disappointed.
Raunchy humor at it's best, a killer soundtrack of oldies classics, an all-star cast of up and coming stars, and the biggest strength of all……. Newbomb Turk!

Though not a weakness to me, this film may not be for everyone considering the amount of raw, disgusting humor. Like I said….. not to me! I love this kind of childish, immature comedy. A legitimate weakness could be the sub-par acting at times, but you'll soon get over that once you start laughing you head off! I could also do without the "love story" sub-plot going on with Danza and Pfeiffer's characters.
Rewind Rating
The Movie Data
Key Crew
Director: Floyd Mutrux
Writer: Floyd Mutrux, Richard Lederer, William Tennant
Producers: Richard Lederer, William Tennant
Locations Manager: Brad Thomas
Update The Crew
Data
Release Date: 30 May 1980
MPAA Rating: R
Studio: Columbia Pictures
Production: Casablanca Filmworks, PolyGram Filmed Entertainment
Genre: Comedy
Update The Data
The Movie Trailer
Jump To: Music & Soundtrack Vibes
Or use the menu to navigate
1980 Columbia Pictures
1999-2020 fast-rewind.com
V4_27 Powered by Rewind C21 CMS