REWIND
REVIEW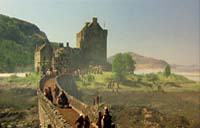 Starring
Christopher Lambert, Roxanne Hart, Clancy Brown, Sean Connery
Beatie Edney, Alan North, Sheila Gish, Jon Polito, Hugh Quarshie, Christopher Malcolm, Peter Diamond, Billy Hartman, James Cosmo, Celia Imrie, Alistair Findlay, Edward Wiley, James McKenna, John Cassady, Ian Reddington, Sion Tudor Owen Update Cast
The sparks from the swords during the fighting were produced by wiring them up to a car battery via cables that ran up the actors sleeves!
More Making Of Highlander
Review
A great eighties film that was undeniably ahead of its time. Even when watching it now it is as good as any present day movie. It anticipated the sophisticated production techniques and style that were to follow a decade later.

It is a film about a romantic action hero MacLeod, who must go on with an immortal life whatever the pain.

MacLeod is a man from another time who until he meets the Spanish Peacock (Sean Connery) does not know his great powers or incredible strength. He lives with passion but is uncertain of his future and haunted by his past.

He is waiting for the gathering when only a few will remain and only then will he know what the prize is going to bring. Once the quickening has happened he will know everything and be everything, he will be what every immortal man would want to be.

Clancy Brown plays the Kurgan extremely well and will make you squirm. The Kurgans are an ancient people from the steppes of Russia, they used to toss children into pits of hungry dogs for amusement.

MacLeod and the Kurgan are the last two remaining and meet at the gathering to fight for the prize. If MacLeod does not destroy the Kurgan, mortal man will be faced with an eternity of darkness.

Stunning cinematography is a feature of this superbly made movie. The locations chosen by director Mulcahy are beautifully photographed and Mulcahy brings a visionary touch to the whole proceeding. He had obviously carefully planned all his scene changes between the various timezones in which the movie takes place as all of them are wonderfully imaginative.
Author:
Sarah Baulch
Update This Review
Verdict
The movie is superbly written and holds your interest all the time while jumping between different centuries. All the actors were perfectly chosen for their parts and all performed extremely well.

The Scots were passionate about their fighting up in the Scottish Highlands and matched their awesome scenery.

It all leads up to a conclusion is loud and spectacular......so watch it!
Excellent choice of scenery, extremely well matched by the music and complemented by superb acting.

None
Rewind Rating
The Movie Data
Key Crew
Director: Russell Mulcahy
Writer: Gregory Widen, Peter Bellwood, Larry Ferguson
Producers: Peter S. Davis, E.C. Monell, Eva Monley, Harold Moskovitz, William N. Panzer, John H. Starke
Locations Manager: Nick Daubeny
Update The Crew
Data
Release Date: 07 Mar 1986
MPAA Rating: R
Studio: Highlander Productions Ltd.
Production: 20th Century Fox, EMI Films, Highlander Productions Limited
Genre: Action / Adventure
Update The Data
The Movie Trailer
Jump To: Music & Soundtrack Vibes
Or use the menu to navigate
1986 Highlander Productions Ltd.
1999-2020 fast-rewind.com
V4_27 Powered by Rewind C21 CMS