REWIND
REVIEW

"
Her Life Just Hasn't Been The Same Since Her Death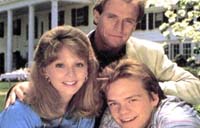 Starring
Shelley Long, Judith Ivey, Gabriel Byrne, Corbin Bernsen
Sela Ward, Austin Pendleton, Thor Fields, Madeleine Potter, Carrie Nye, Robert Lewis (IX), John Cunningham, I.M. Hobson, Mary Fogarty, Tony Sirico, Elkan Abramowitz, Shirley Rich, Kaiulani Lee, John Rothman, Kate McGregor-Stewart Update Cast
Cameos
Look for Susan Isaacs, Lynne Thigpen making a cameo appearance!
This was Frank Perry's second adaptation of a Susan Isaacs novel, the first being the 1985 suspense comedy "Compromising Positions", which starred Susan Sarandon. Isaacs wrote the screenplays for both pieces and also made an appearance as an occultist.
More Trivia from Hello Again
Review
One of the more underrated movies of the 1980s, "Hello Again" is an excellent fantasy that poses an important question: If you had died and were given a second chance at life, what would you do with it?

The story is about Lucy Chadman (Long), a housewife, a daycare center volunteer and a big-time klutz. She's married to a major plastic surgeon named Jason (Bernsen). Together with their aspiring-to-be-a-chef son Danny (Fields), they live happily in a house on Long Island. However, Jason is longing for something more. That "something more" is a mutual friend from college named Kim Lacey (Ward), a clothes-designing golddigger. Constantly encountering each other at society parties and benefits, there's a rivalry for Jason's affections that will be waged in life... and death.

Death, you say? Well, let me explain. Some people have a twisted sister... Lucy has a mystic sister. Her name is Zelda (Ivey). A very spiritual being, she's also very much a kook. She'll interrupt a party to notice a guest that swatted a fly and then berate him with talk of transmigrating beings.

One day, Lucy, in a very 80s dress, is visiting Zelda to talk about various things. Partaking of some Chinese food, Lucy finds herself choking on a piece of chicken. While her sister is pre-occupied, Lucy takes a tumble off a railing and goes into a coma. Rushed to the hospital, she dies within hours, but not before getting her first glance of a handsome doctor named Kevin Scanlon (Byrne). This character may seem peripheral, but he'll be important soon enough.

Much sadness can be seen at Lucy's funeral, yet time can never stop. Within the year, Jason and Kim have married, Danny has found a girlfriend, Felicity (Potter) and founded a restaurant and Zelda has had her business increase.

Going through her books one year to the day after Lucy's death, Zelda finds an old tome that contains a spell. To be specific, it's a spell that can bring a person back to life. Sensing a golden opportunity, Zelda heads for the graveyard where Lucy was interred, a white dress being carried alongside her book. After the spell is recited, unbelievably, inconceivably, Lucy comes back to life. Lucy is naturally shocked and she talks with Zelda about the new lives everyone leads.

Talk leads to action and in succession, Lucy finds her house under new ownership, the daycare center she worked at torn down and her husband re-married.

While the gift of new life is wonderful(?), it comes with a heavy price. Zelda informs Lucy that she must find true love before a certain period of time is up, or else she's dead permanently. Lucy thinks her true love is Jason, but that isn't to be. Jason feels younger and more like a free man, even though his marraige to Lucy was stable and produced a son. Lucy and Jason end up parting ways.

Everything is new and shocking to Lucy and this takes her to visit Dr. Scanlon. Kevin agrees to take some tests on Lucy and after they match up, a publicity bonanza begins.

Interviews are taken, press conferences abound and business at Danny's restaurant Felicity's explodes. Merchandising opportunities are presented and Lucy is headline news on every station. She even endears herself to a wealthy benefactor named Junior Lacey (Pendleton), the scion of the deceased husband of...Kim, who's looking to take Lucy down a few pegs. She declares Lucy a fraud, says that the results were doctored (no pun intended) and ends up ruining everything, including a new romance between Lucy and Kevin.

With no one left to believe her, Lucy is a failure in life once more...or is she? With the assistance of Zelda, Danny, Felicity and Junior, Lucy attempts to win the fight of her second life and possibly find love.

Does she succeed? Will she get her second chance at love? The only way to find out is to watch this movie.

It's a delightful tale to be enjoyed by everybody who wonders what will happen to them once they die.
Author:
John Edward Kilduff
Update This Review
Verdict
I rented this movie while staying at Walt Disney World this year and it made perfect sense. This Touchstone release carries all the whimsy and emotion of the best animated features from its' sister company Walt Disney Pictures. There's plenty of comedy, as well as genuine emotion.

Many people dismiss this movie as a featherweight high-concept P-O-S. I go against the grain, and recommend this as one of the best and most challenging fantasies to come out of the 1980s.
The performances, the music, the design, the whole movie is great and vastly underrated.

None that I can find.
Rewind Rating
The Movie Data
Jump To: Music & Soundtrack Vibes
Or use the menu to navigate
1987 Touchstone Pictures
1999-2020 fast-rewind.com
V4_27 Powered by Rewind C21 CMS