REWIND
REVIEW

"
This has to be the match of the day...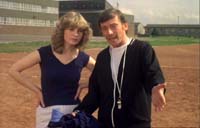 Starring
John Gordon Sinclair, Dee Hepburn, Clare Grogan, Chic Murray
Jake D'Arcy, Robert Buchanan (II), Billy Greenlees, Alan Love, Caroline Guthrie, Carol Macartney, Douglas Sannachan, Allison Forster, Alex Norton, John Bett, Dave Anderson, Billy Feeley, Maeve Watt, Muriel Romanes, Patrick Lewsley, Ronald Girvin Update Cast
What is the "meaning" of the the boy in the penguin suit?

The answer is sadly -and surprisingly- mundane. Director Bill Forsyth said in a recent interview that it was nothing special and simply came from watching someone at Abronhill High school, where the film was shot, carrying a papier-mâché head down a corridor "and no one batting an eyelid; a school is a place where anything can happen."
More Trivia from Gregory's Girl
Review
Gregory is a typical 1980's teenager - shy around girls, clumsy to the point of embarrasment, growing faster than his mind or his clothes are happy with, and above all desperate to fall in love.

His close friends are all the same and have varying degrees of success with the 'love thang'.

Then along comes Dorothy, who is everything he always dreamed of - beautiful, happy, charming, and a better soccer player than all of the school team combined. She soon wins a place in the Soccer team (who now start to win!) and ultimately, after many aborted attempts and deep soul-searching with his younger sister Madeleine, asks her on a date.

To his surprise, she accepts.

Gregory is overjoyed, and arrives early, at the agreed meeting place, only to find.... no Dorothy.

However, there are a string of other girls who lead Gregory through a maze of pretense with the ultimate goal being... not Dorothy, but Susan, who has had a secret crush on Gregory for a while and arranged with Dorothy and the others to lure him into accepting a "sort of date".

The other boys from the school are amazed to see Gregory with a string of girls that night and resolve to do something about it themselves...
Author:
Paul Shrimpton
Update This Review
Verdict
This is such a gentle movie. It shows boys growing up in a very honest, open way.

They are jerks. They are obsessed with Soccer and Girls, not however in that order! They are terminally clumsy, riddled with teeth and acne, forever trying to look cool, and absolutely convinced that the One True Love is just around the next corner.

John Gordon Sinclair is great as Gregory, who highlights all of this awkwardness wonderfully. Clare Grogan has a smaller, but very important role, and is fairly cute whilst remaining streetwise. Dee Hepburn has maybe the smallest role as Dorothy and is never really stretched.

There are many fun scenes, including one that is never fully explained: several times you see a kid dressed as a Penguin, waddling around school. Someone always calls them back and directs them to another room in the building. And that's it. No explanation at all, which makes it so much fun for me!
It's just a great fun, feelgood movie.

None.
Rewind Rating
The Movie Data
Key Crew
Director: Bill Forsyth
Writer: Bill Forsyth
Producers: Davina Belling, Clive Parsons
Locations Manager:
Update The Crew
Data
Release Date: 26 May 1982
MPAA Rating: PG
Studio: Samuel Goldwyn Company
Production: Lake, National Film Finance Corporation (NFFC), Scottish Television Enterprises
Genre: Teen Drama
Update The Data
The Movie Trailer
Jump To: Music & Soundtrack Vibes
Or use the menu to navigate
1981 Samuel Goldwyn Company
1999-2020 fast-rewind.com
V4_27 Powered by Rewind C21 CMS