REWIND
REVIEW

"
Where dreams have a funny way of coming true.
Starring
Jamie Lee Curtis, C. Thomas Howell, Patrick Swayze, Troy Donahue
Jennifer Jason Leigh, William Windom, Carole Cook, M. Emmet Walsh, Ramon Bieri, Elizabeth Gorcey, John Philbin, John Cusack, Joan Cusack, Camilla Hawk, Melissa Domke, Jason Court, Tim Gamble, Fred Lerner, Larry Brandenburg, Taylor Williams, Kathryn Joosten Update Cast
Review
It has been pretty hard for me to accept that this might be what you would call a "lost film." A movie that's been out of the mainstream circuit and worse yet, until recently, out of print to future fans... If you don't know the movie, then such a loss would only be clear when you know what kind of film this really is.

Grandview U.S.A. was made during a time that nonstop teen sex comedies and brat pack movies were being shipped off and sent into the world of teenagers, shaping their attitudes to life. This movie, with such a simple plot and good ole' fun, should be remembered for the innocence of the time and the up-and-coming stars of tomorrow that it showcased.

The story takes place in the mid western town of Grandview, in late June... Just when the "Class of 1984" is being released into their last summer of rule breaking and childhood freedom.

The film centers on Tim Pearson (C. Thomas Howell) A young man that's made it to the head of his class and has been accepted into one of the finest colleges in the state. Tim has everything going for him and so much to be happy about this summer... Most of all, his father is letting him drive his brand new car to the high school prom to impress his date.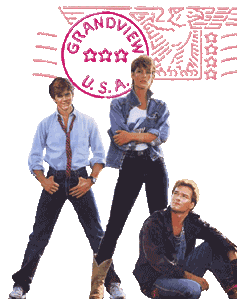 But later that night Tim and his date take a little "ride," on their way to the local point, they stumble into a little trouble when Tim parks the car right in a muddy swamp!

Tim walks five miles out to Cody's Derby to fetch a tow truck. While he's there, he meets the girl of his dreams, Mike Cody (Jamie Lee Curtis), the attractive tomboyish owner of the joint.

Mike owns the car Derby with her mother and mentally challenged younger bother. The small family is in trouble since the head of the town board wants to shut down the Derby in less then a month. Long before Mike could get enough money to pay her debts off. Right away Tim falls for the slightly older woman and gets sucked into her world of troubles and choices she has to make this summer.

Along for the ride is Mike's best friend and driver Slam Webster (Patrick Swayze) who's having troubles of his own with his very young and beautiful wife Candy (Jennifer Jason Leigh), who he thinks is cheating on him. Also starring are up-and-coming stars John and Joan Cusack as Tim's buddies from school, who also try to give him advice on how to handle his future and his love life.

But it's Tim who must stand up to his father and tell everyone what he really wants from life and that is to be his own person...
Author:
Mickey Alteri
Update This Review
Verdict
Grandview U.S.A is one of the many fun and good-feeling movies that deal with people of this age range and the problems they face.

I thought the acting between C. Thomas Howell and Jamie Lee Curtis was pretty good -and they even set off a few sparks! It's a movie you watch to have fun with, to laugh and enjoy and feel good about yourself after your done watching it.

There aren't many movies like that anymore.

The only downside is how it's now a "lost film." and that it hasn't been released on DVD yet, I mean sure, it isn't Titanic, but it's a good film with some pretty awsome actors.

It's "The" movie to watch when summer is just starting, trust me...
Great movie for it's time, the actors it in were outstanding and had a awsome soundtrack!

Sure, it isn't gonna win a Oscar any time soon, but I couldn't really find any weaknesses for this film.
Rewind Rating
The Movie Data
Jump To: Music & Soundtrack Vibes
Or use the menu to navigate
1984 20th Century Fox
1999-2020 fast-rewind.com
V4_27 Powered by Rewind C21 CMS