REWIND
REVIEW

Gimme an 'F'
R
AKA: The Big Cheer, T&A Academy 2
"
Something to Cheer about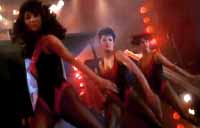 Starring
Stephen Shellen, Mark Keyloun, Jennifer Cooke, Beth Miller
Daphne Ashbrook, Karen Lee Kelly, Sarah M. Miles, Clyde Kusatsu, Doris Hess, John Karlen, Karyn Harrison, Tyra Ferrell, Patricia Duff, Leslie Ryan, Audrey Saunders, Debra Johnson, Julie Gray, Russ Bolinger, Gwen Peterson, Julia Fairbanks, Peggy Holmes, Nathan Le Grand, Richard Minchenberg, Carey Scott, Lisa Durazo, Jan Gan, Daphne Pena, Cindy Silver, Darcy DeMoss Update Cast
Review
Yes folks, the story does indeed take place at a place called 'Camp Beaver', where cheerleading squads from all over the country are participating in a cheerleading camp designed to turn them all into champion cheerleaders.

The camp's activities are brought to a close with a highly anticipated competition between the participating squads to see who became the very best by the end of camp.

Feeling he has outgrown the whole cheerleading scene, Tom Hamilton, the camps leading instructor (Stephen Shellen) vows that this will be his last year teaching. The camp's unscrupulous camp director, Bucky Berkshire (John Karlen), fearing he might lose his best instructor finds a way to make a wager that the instructor cannot refuse. Bucky puts $10,000 against 5 more years of Tom Hamilton teaching for the camp that Tom cannot turn his assigned squad, the 'Moline Ducks', into champion cheerleading material.

The underdogs in the competition, the 'Moline Ducks', are a loveable squad of misfit good-girls participating in the camp for the very first time. As the team gets ready for the competition, the viewer is entertained with several captivating dance sequences with upbeat music.

As the story goes, it's a typical 80's teen movie with all the usual, tired, and predictable sexual trappings that come with the 80's teen genre scene, which is why I can not recommend this movie for kids. Filled with the 80's stereotypical teen pranks and sexual situations, the only really entertaining part of the movie are the brilliantly choreographed dance routines!

This movie is the 1980's version of 'Bring it On'. Although the story is not Oscar worthy, the cheerleaders' dance routines that are woven throughout the film are worthwhile for any cheerleading enthusiast… Over 18, that is.
Author:
Val
Update This Review
Verdict
OK, so this is blatantly "Footloose" meets "Meatballs" complete with a ripoff dance scene lifted directly from "Footloose", a total lack of story, blatantly stupid script and a times is so bad that its unintentionally funny, but makes up for it with a jumping soundtrack and brilliantly choreographed dance scenes.
The beautiful dance routines and music can keep one interested even though the story itself lacks substance.

There is some nudity, language, and adult situations that make this film unsuitable for children under 17.
Rewind Rating
The Movie Data
Jump To: Music & Soundtrack Vibes
Or use the menu to navigate
1984 20th Century Fox
1999-2020 fast-rewind.com
V4_27 Powered by Rewind C21 CMS