REWIND
REVIEW

"
She's having the time of her life after her death.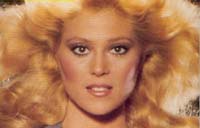 Starring
Audrey Landers, John Matuszak, David Doyle, George 'Buck' Flower
Billie Blaine mirrors Marilyn Monroe in many ways. For example, both their initials are doubles (B.B. & M.M.), they are both blonde bombshells from the 50's and 60's, both were involved with politicians, both tragically died in their homes in 1962, both had homes which took a while to be sold because of their deaths. Even the song title "Gone With The Wind" is similar to Elton John's song "Candle In The Wind" which was about Marilyn Monroe. It's pretty obvious the role of Billie was based on Marilyn although the writer claims the character is completely fictional.
More Trivia from Ghost Writer
Review
Malibu. 1962. 6:00 a.m...

A curvaceous blonde goes for a skinnydip amidst the lapping waves on the California shores. Up in her beach house, a man is erasing evidence which could convict him of this woman's murder and is instead erecting what looks like evidence of a suicide scene. Down on the beach a woman screams as she sees the dead body of a beautiful drowned woman. This woman is Hollywood bombshell Billie Blaine and twenty-seven years after her tragic murder, people still believe the star took her own life.

Twenty-seven years later, 1989, journalist Angela Reid is going through some problems of her own. The editor for "Hollywood Beat", the magazine she writes for, is nagging her about not being unbiased enough in her articles, and the apartment she lives in is being remodeled, causing so much noise she can hardly hear herself think.

All of a sudden, she has an idea. Her Aunt Sarah has a beach house in Malibu that used to belong to Angela's famous late aunt Billie Blaine. Her aunt has been unable to sell the house because there are rumors it's haunted by the ghost of a famous sex goddess, but Angela thinks that's ridiculous. I mean, ghosts? Give me a break.

Soon after arriving at the beach house Angela makes a couple of new friends. Bee-Jay, played by Joey Travolta, who is a sort of beach bum obsessed with the life and death of Billie Blaine, and Tom Ferrell, played by Jeff Conaway, a cassanova type writer who expresses his interest in taking Angela out on a date.

After taking a walk on the beach to clear her thoughts she comes back to the beach house and comes face to face with Billie Blaine, in the flesh. Billie wins Angela over with her cute voice and innocent demeanor and starts lending Angela some much needed help on her writing. She also gives a strip show at a trendy 80's club called "Scream", helps Angela escape some cops in a baby blue cadillac and snags Angela a boyfriend.

When Angela's article, with some help from Billie, comes out in the magazine, a politician by the name of Vincent Carbone demands Billie's diary be handed over to him, or Angela's new boyfriend Tom will be killed. Billie pinpoints Vincent as the man who murdered her over twenty-five years ago. Turns out he was already married when he was dating Billie, and a married politician dating a movie star could ruin his career, so he gave her an overdose of barbituates and let the ocean do the rest.

The girls lead Vincent on a wild goose chase inside Movieland Wax Museum, making Vincent so horrified he confesses to the murder and Billie is no longer a stranded ghost on earth.

An adorable film! Written and directed by Kenneth J. Hall, this movie is pure eighties fun with a dash of drama, suspence, and fantasy. Billie and Angela are a spunky pair! Against them the bad guys don't stand a "ghost of a chance"!
Author:
Bridgette Marie
Update This Review
Verdict
Adorable representation of the styles and music that made the 80's what it's remembered as today! Great for Landers Sisters fans, Marilyn Monroe fans, or just plain 80's fans!
Cute plot, great mix of fantasy,suspence, and comedy. Does a great job at showing the pop culture of the late 80's.

Not for everybody. Some might think it's cheesy, but then again some people think the 80's period was chessy, but I totally disagree!
Rewind Rating
The Movie Data
Jump To: Music & Soundtrack Vibes
Or use the menu to navigate
1989 Prism Entertainment
1999-2020 fast-rewind.com
V4_27 Powered by Rewind C21 CMS