REWIND
REVIEW

"
Will she have the power... to survive?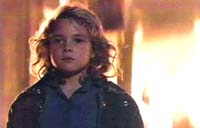 Starring
Drew Barrymore, David Keith, Heather Locklear, Martin Sheen
George C. Scott, Louise Fletcher, Art Carney, Freddie Jones, Moses Gunn, Antonio Fargas, Drew Snyder, Curtis Credel, Keith Colbert, Dick Warlock, Jeff Ramsey, Jack Magner, Lisa Anne Barnes, Larry Sprinkle, Cassandra Ward-Freeman, Scott R. Davis Update Cast
Cameos
Look for Stanley Mann making a cameo appearance!
Of his novel Firestarter, stephen King once said this "While Firestarter is just a novel, it's components are based on actual happenings... The U.S. government has indeed administered potentially dangerous drugs to unwitting subjects on more than one occasion; Both the United States and the Union of Soviet Social Republics have programs for isolating the so-called "wild talents"... and perhaps putting them to use. Government funded experiments in this country have centered on influencing the kirilian aura and telekenesis... If I mean to suggest anything, it is only that the world, although well-lighted with flourescents and incandescent bulbs and neon, is still full of odd dark corners and unsettling nooks and crannies."
More Trivia from Firestarter
Review
Written by the novelist who never ceases to amaze, Stephen King, Firestarter is a movie which is not so much about "monster scary" as it is about "reality horror".

The subject matter in this film could very well be true; supernatural events hidden from us by our own government. More probable than far-fetched, director Mark L. Lester and producer Dino DeLaurentiis take us on an intimate journey into the lives of a man named Andy McGee and his daughter Charlie, who look to the outside world like your average suburban family.

Average, though, they are not. Charlie and Andy are on the run from the government because of something that happened to Charlie's parents before she was born. Andy (David Keith) and his wife-to-be Vicki (Heather Locklear) took a dose of a chemical called "Lot 6" in a voluntary college experiment. It gave Vicki the ability to read minds, Andy the ability to make people do what he wants, and their 8-year old child Charlie (Drew Barrymore) the ability to cause things and people, to shoot up in flames (a condition also known as Pyrokenesis).

A secret government agency called "The Shop" have been after Andy and Charlie for a long time, and Charlie feels subconsciously that she deserves it. She is totally distraught over her condition and blames herself everytime her pyrokenesis "gets away" from her. However, she doesn't deserve what "The Shop" has in store for her and her father. They plan to use Charlie for warfare, and plan to kill Andy altogether.

"The Shop" even went so far as to leave a message to Andy that they were serious through torturing the beautiful blonde Vicki by ripping her fingernails off and smothering her.

From that moment on, Andy and Charlie have been on the run, but are eventually taken over by "The Shop". "The Shop" puts Charlie through a bunch of experiments and fellow government agent John Rainbird(George C.Scott) deceives Charlie into thinking he wants to help her father and befriend her.

The climax of this film is the most exciting. Charlie's father is shot and killed in front of her eyes and Charlie is no longer willing to show mercy on "The Shop". Incredible fireballs burst through the air, killing hundreds, and the youthful Charlie is now free to out "The Shop" by giving her story to The New York Times.

Thought-provoking and intriguing, Firestarter is one of the best Stephen King films and a must-see for Drew fans. Even as a young girl Drew Barrymore is a great actress, and is successful in making the viewer commiserate with the lives of these extraordinary people, the very likes of which could be living hidden in our own world.
Author:
Bridgette Marie
Update This Review
Verdict
This was one of my favorites as a young girl. My grandfathers friend from work gave it to me, knowing I loved scary movies and Drew Barrymore.

I'm not that much younger than Drew, so I feel we grew up together, and watching this film takes me back to my childhood. It is definitely a classic thriller.
interesting plot, good acting, good special effects, an adorable Drew Barrymore

Hmmm, can't think of any
Rewind Rating
The Movie Data
Jump To: Music & Soundtrack Vibes
Or use the menu to navigate
1984 Universal Pictures
1999-2020 fast-rewind.com
V4_27 Powered by Rewind C21 CMS