REWIND
REVIEW

"
If you believe the impossible, the incredible can come true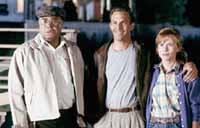 Starring
Kevin Costner, Amy Madigan, Gaby Hoffmann, Timothy Busfield
Ray Liotta, James Earl Jones, Burt Lancaster, Frank Whaley, Dwier Brown, James Andelin, Mary Anne Kean, Fern Persons, Kelly Coffield, Michael Milhoan, Steve Eastin, Charles Hoyes, Art LaFleur, Lee Garlington, Mike Nussbaum, Anne Seymour Update Cast
In the novel, "Shoeless Joe" on which the movie is based, the reclusive author whom Kinsella sought out was J.D. Salinger, whose novel "Catcher in the Rye" included a character named Richard Kinsella. The producers of the film adaptation were forced to create a fictional reclusive author (James Earl Jones' character, Terrence Mann), because of the threat of legal action by Salinger, who was reportedly incensed when the novel was published in 1982.
More Trivia from Field Of Dreams
Review
Ray Kinsella (Costner) is a farmer who never thought he'd end up as one.

As a young man, he walked out on his family when being a hippie was the 'in' thing. He rejected his family's values and tried being hip, but eventually ended up as a family man himself, with wife Annie (Madigan) and daughter Karin (Hoffman) on a small farmstead in Iowa. The transition to family life reminds him of his father and his life that Ray feels was so unfulfilled.

When a mysterious voice tells Ray to build a baseball field, he listens to his hippie soul and plows under his crop to make it. This is the start of a magical journey that will intertwine their lives with long-dead fallen baseball hero "shoeless" Joe Jackson (Liotta), a legendary 60s writer, Terence Mann (Jones), who left behind fame, causes and activism to become a reclusive writer of children's software and noted small-town doctor Archibald Graham (Lancaster), whose whole destiny once hinged on a single baseball throw.

However magical the journey, the reality of plowing under your primary crop is that you'll probably lose your farm. Wife Annie Kinsella has a banker cousin, Mark, who represents the voice of this reality (and, as such, the villian of the piece). With an interest in the loan on their property, his threats and warnings become increasingly desperate as their lives plunge into this insane path.

The odyssey will lead Kinsella to forgiveness for past sins and a realization of a grand vision. It all happens ...in a Field Of Dreams.

Why do I, like so many millions of others who aren't sports fans, love this movie? It certainly can't be because of the baseball angle. I quit Little League after several months, I've only been to one baseball game in my entire life.

The answer lies at the very core of this magical movie. A movie that, like so many others of the era, encourages you to persue your dreams, but much more strongly, urges you to reconcile your relationship with those people who most probably influenced your more than anyone... Your parents.

Ray hears a voice that famously says "If you build it, he will come". But later we find that's not the only thing the voice has to say.

The year that this movie came out, one of the most popular songs was "The Living Years" by Mike + The Mechanics. Lyrics like:

"Every generation blames the one before and all of their frustrations come beating on your door"

and

"I wasn't there that morning when my father passed away...I didn't get to tell him all the things I had to say"...

They mirror the concept of this movie perfectly. Many find it hard to reconcile their lives with the problems they have, and so they go blame their parents for whatever happened to them. Many people have lost their parents without getting out the words that they needed to tell them. This is best emphasized by the fact that Ray was a hippie and wasn't around to see his dad for one last time. Ray thought his father and many other adults were responsible for all the problems that had occurred not only in his life, but in the world.

As another song/movie parrallel, Don Henley's "The Heart Of The Matter" came out the year this movie was released as well. The chorus goes

"I've been trying to get down to the heart of the matter,
but my will gets weak and my thoughts seem to scatter,
but I think it's about forgiveness even if you don't love me anymore".

Forgiveness is what's at the core of this movie. It's not only the forgiveness of family but also of the scandals of our past, as emphasized by Shoeless Joe Jackson, the disgraced ball player and Terrence Mann, the novelist whose works had caused social uprisings in the 60s.

Forgiveness and dreams... I guess that's not only what "Field Of Dreams" was about, but also the 80s as a whole.
Author:
John Edward Kilduff
Update This Review
Verdict
This is a movie that's for all of those who do crazy things in order to achieve their dreams. Sometimes that's all you can do to get ahead.

The actors hit their marks perfectly and interpret the story perfectly. The writing is poetic in its wording. The locations are perfectly cast as well. They have a magic to them that makes them more than just filming locations. They have a unique magic about them themselves.

I recommend this movie to the people who dream big, and I think that's a lot of people
The movie is very inspirational and at times funny. James Earl Jones gives a great supporting role as Terrence Mann.

It's not the easiest movie to watch for those who have lost parents.
Rewind Rating
The Movie Data
Jump To: Music & Soundtrack Vibes
Or use the menu to navigate
1989 Universal Pictures
1999-2020 fast-rewind.com
V4_27 Powered by Rewind C21 CMS