REWIND
REVIEW

"
...Where the night belongs to the girls. Everyone is watching them but someone is waiting for them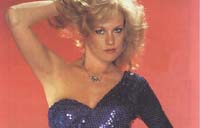 Starring
Tom Berenger, Billy Dee Williams, Jack Scalia, Melanie Griffith
Rae Dawn Chong, Joe Santos, Michael V. Gazzo, Maria Conchita Alonso, Rossano Brazzi, Jan Murray, Janet Julian, Daniel Faraldo, Ola Ray, Cihangir Gaffari, Emilia Crow, Nina Jones, Frank Ronzio, Juan Fernández, Jim Boeke, Vinny Argiro Update Cast
Review
New York City, 1984...

There's scum everywhere you go. It's in the streets, it covers the people. At this conjecture in time, it was a bad place for all and sundry. Who better than Ferrara, noted director of graphic movies like "Ms. 45" and "Driller Killer", to show how worm-ridden the Big Apple was in '84?

The movie stars Berenger as Matt Rossi, a former boxer who, upon killing a man in the ring, hung up his boxing trunks and became the owner of an agency for strippers. The Starlite Talent Agency, co-owned by Rossi's longtime buddy Nicky (Scalia), sends out gorgeous ladies (for the most part) to the seedy strip joints of Times Square. There's Leila (Chong), Ruby (Janet Julian), Silver (Alonso) and Honey (Ola Ray). They're all very gorgeous, but there's one lady who tops them all.

She's a blonde dynamo named Loretta (Griffith). While not operating as part of Starlite, this beautiful and definitely not bashful blonde has a connection to the group anyway. She's the ex-flame of Rossi, who split up with her a long time ago over her addiction to heroin.

Now, this is where the thriller aspect comes in (Ola Ray notwithstanding):

A killer is roaming the night, taking down the Starlite Agency girls in many gruesome manners... Knives, karate and katanas all figure prominently into this psycho's work. He's got the strippers scared, Rossi and Nicky angry, and one detective angrier.

That detective is Wheeler (Williams), a bigoted foulmouth with an anger against Italians and a hatred of vice. He wants to protect the agency, but he's rather disgusted by them. A very tough situation...

Which is made even tougher by the fact that Leila, Silver and Honey have all been attacked and are either dead or making their way to Heaven's Gate. The only ladies still surviving are Ruby and Loretta.

Speaking of Loretta, she and Matt have decided to patch things up. The romance is going hot and heavy for a while, but as the bodies keep piling up, Rossi finds himself descending further into madness.

All his life, he's been surrounded by death. From the murders made on Mafia members when he was a shoeshine boy to the death of his opponent in the ring at his final fight, he's been confused. He wants justice for the attacks on his girls, but he can't bring himself to do it.

Actually, he eventually does, after Wheeler gives him a brief stint in the joint and Nicky is attacked by the killer as well. Besides that, Loretta, in all the insanity, has gone into a junked-up cocoon.

After praying to God, Rossi checks into a welfare hotel, practices his old boxing moves and walks the streets, ready for a final fight with the killer, who has Loretta in his sights.

If you think this'll have a sad ending, well, it doesn't. I won't spoil what happens, but once again, you get an 80s happy ending, albeit one in a movie filled with some of the most disturbing sights you'll ever see.
Author:
John Edward Kilduff
Update This Review
Verdict
I honestly don't know how this movie got away with an R rating. It's as graphic as all get-out and very twisted at times (witness a scene where the murder of Honey, Ola Ray's character, is intercut with a striptease by Loretta, Griffith's character). The movie has an intense pace to it, and offers a look at Times Square before Disney cleaned the place up.

If you don't mind a lot of sex and violence, you'll love this movie. If you're fearful of both, avoid this flick like the plague.
Gorgeous women, great editing, a good theme song by David Johansen...

Perverse and grotesque...Those of weak constitution shouldn't see this movie.
Rewind Rating
The Movie Data
Data
Release Date: 16 Feb 1985
MPAA Rating: R
Studio: Zupnik-Curtis Enterprises
Production: Rebecca Productions, Twentieth Century-Fox Film Corporation, Zupnik-Curtis Enterprises
Genre: Thriller
Update The Data
The Movie Trailer
Jump To: Music & Soundtrack Vibes
Or use the menu to navigate
1985 Zupnik-Curtis Enterprises
1999-2020 fast-rewind.com
V4_27 Powered by Rewind C21 CMS