REWIND
REVIEW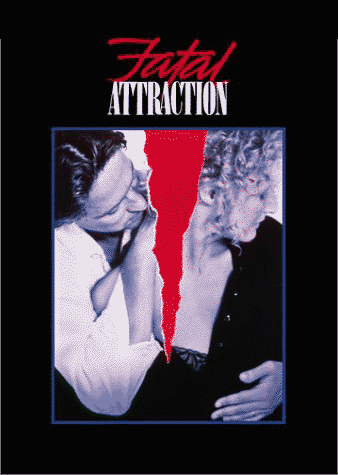 "
I'm not going to be ignored, Dan!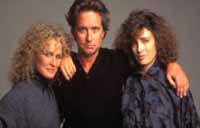 Starring
Michael Douglas, Glenn Close, Anne Archer, Ellen Hamilton Latzen
Stuart Pankin, Ellen Foley, Fred Gwynne, Meg Mundy, Tom Brennan, Lois Smith, Mike Nussbaum, J.J. Johnston, Michael Arkin, Sam Coppola, Eunice Prewitt, Jane Krakowski, Justine Johnston, Mary Joy, Christine Farrell, Marc McQue Update Cast
Alex Forrest was named one of the 10 greatest movie villains of all time by the American Film Institute in their "100 Years, 100 Heroes And Villains" list. The movie itself was declared as one of the 100 most exciting movies of all time in the AFI list "100 Years, 100 Thrills".
More Trivia from Fatal Attraction
Review
They say that if you play with fire then you're going to get burned. Dan Gallagher (Douglas) has walked into a propane tank field with a flaming blowtorch.

Dan's a top player in the world of book publishing. He lives in a well-off New York apartment building. He has a loving wife named Beth (Archer) and a little girl named Ellen (Hamilton Latzen). Dan has everything a man could ask for...And he could lose it all thanks to a one night stand.

Her name is Alex Forrest (Close) and she embodies passion. She runs in the same circles that Dan does and when they meet at a book industry party, they hit it off immediately. When Beth and Ellen take a trip out of town, Dan and Alex have an intensely passionate fling. The raw passion that exists between them is only temporary, though...At least it is for Dan. Alex has mental and emotional issues and to her, the passion continues on. She tries getting back in contact with him and they steal a few more passionate moments. That's all they are to Dan...Mere moments. To Alex, they mean something more. She wants Dan desperately and she'll do anything to have him, even if it affects his family life. She puts it best herself:

"I'm not going to be ignored, Dan!"

What happens in the end depends on which version you see (Trivia regarding that can be found below).

As the Reagan administration was in its' waning days, the go-go eighties were on their way to being gone-gone. "Wall Street" (Michael Douglas' other 1987 hit) parallelled the fall of the stock market. In the same way we can view "Fatal Attraction" as a metaphor for the AIDS crisis. Despite the political and religious climates of the time, sex was still on everybody's mind. The hippies had become yuppies but they still carried that primal passion within themselves. The porn industry went through the roof thanks to the VCR boom. MTV splashed vivid sensual imagery onto our screens with music videos by people like Madonna and Duran Duran. More than 60 percent of all 80s movies were rated R. This can all be traced to the carnality of the baby boomers who assumed power within our favorite decade.

At the same time, AIDS was on the rise. In the early 80s the epidemic began. Some people say it was the airline steward known as "Patient Zero" (a term coined by the late Randy Shilts). Others say that the disease was spread through interspecies breeding. Still others say it was God's revenge for the late 70s. Whatever it was that caused it, the disease became as much associated with the 80s as Rubiks' Cubes, the Brat Pack and hair metal.

Alex is much like the AIDS virus. Her siren call is in the form of sexuality, luring men like Dan into delicate webs of evil. Once she infects Dan, his fate has been sealed. At first she's like an annoyance, as evidenced by her repeated phone calls. She then turns into a phantasm that spreads fear through his family with the killing of the family pet and the kidnapping of Dan's daughter. She then bleeds like the open sores that appear on your body in the later stages of AIDS. Finally, she comes face to face with the man whose world she's changed and the moment of truth arrives.

It's the fear that runs through all of us...What if "the one" can quicken your life to zero? What if it turns out to be a...

Fatal Attraction?
Author:
John Edward Kilduff
Update This Review
Verdict
This movie is one of the great thrillers of our time. Michael Douglas was great at playing sleazes (both good guys and bad) in the 80s and it's interesting to see him in a role where the tables are turned. Glenn Close may not neccesarily strike your fancy immediately, but she does have a certain look about her that one can find attractive, if in a more refined manner. When it hits the fan, though, she can play a psycho like nobody's business. Anne Archer does a great job at playing the woman caught in the middle. Adrian Lyne's intense style (learned through his work in the advertising world) starts out quietly and then becomes a fireball of passionate rage.

This movie isn't a chick flick or a guy movie...It's more like a combination of the two. It's great to watch, but it probably shouldn't be viewed in mixed company.

I give it a 9.
The plot is riveting and you can feel the actors become their characters.

They should've stuck with the original ending.
Rewind Rating
The Movie Data
Jump To: Music & Soundtrack Vibes
Or use the menu to navigate
1987 Paramount Pictures
1999-2020 fast-rewind.com
V4_27 Powered by Rewind C21 CMS