REWIND
REVIEW

"
People used to laugh at Eric Binford. Now he knocks them dead with every performance.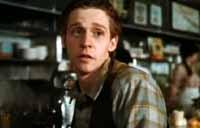 Starring
Dennis Christopher, Tim Thomerson, Gwynne Gilford, Norman Burton
Linda Kerridge, Morgan Paull, Eve Brent, Mickey Rourke, James Luisi, John Steadman, Marcie Barkin, Peter Horton, Hennen Chambers, Melinda O. Fee, Anita Converse, Bob Drew, Teddi Siddall, Sharon Schlarth, David Daniels, Marilyn Staley, Al Tafoya Update Cast
Review
How many of you reading this are movie fans? The kind that people worry are losing touch with reality due to the fact that you collect films and posters and props? How many of you have friends and have some semblance of a life? All of you? Good.

OK, you guys can take a look at Eric Binford and breathe a sign of relief that you aren't him: the worst case scenario.

Eric (Dennis Christopher) is a lonely, obsessed film geek living with his browbeating Aunt Stella (Eve Brent Ashe). His entire life is movies. No friends, no social life, his job being at a film supply company where everyone hates him (his boss (Norman Burton) in particular), he feels that movies are his only friend and source of comfort.

He spends endless hours watching classic films, while Aunt Stella frequently voices her disdain. He frequently quotes them (normally in the voices of the stars that did them), and weirds out a lot of people he meets. However, Ericís life starts to take a turn for the better when he meets Marilyn O'Connor (Linda Kerridge), a lookalike for Ms. "Seven Year Itch" herself. However, to Eric's diseased mind, she IS Marilyn, his favorite screen actress and frequent source of obsession.

Taken with the charming fellow who treats her as if she were Marilyn, she makes a date with him to see a movie. Unfortunately, she runs into an old friend and unintentionally stands him up.

Big mistake.

This is the capper on a week of bad luck, and sends Eric round the bend into Crazytown.

Aunt Stella finally snaps and wants to get rid of all of Eric's movie collection. However, her electric wheelchair breaks and she can't move, allowing the now psychotic Eric to push her, chair and all, down the side steps in a reenactment of Richard Widmark killing Mildred Dunnock in "Kiss of Death."

Eric (calling himself Cody Jarrett, after the villain from "White Heat") soon begins to dispatch of his enemies in methods used from old movies. He shoots a jerk co-worker (Mickey Rourke) dressed as Hopalong Cassidy, scares his boss to death as The Mummy, and guns down a slimy producer (Morgan Paull) in a barbershop as a gangster, among others, while his obsession with Marilyn grows.

All the while, psychologist Jerry Moriarty (Tim Thomerson) has been sent to teach his methods to the police department. He starts to notice a pattern in the recent murders and winds up hot on Eric's trail with his policewoman girlfriend (Gwynne Gilford). Can Jerry stop Eric from harming Marilyn? Will Eric get out of this alive?

I'm not telling. Watch and find out.
Author:
Kyle Palkowski
Update This Review
Verdict
Vernon Zimmerman's "Fade to Black" has become a cult film in the 27 years since its release, and there are many factors to this.

First and foremost is the incredible performance by Dennis Christopher as Eric. He plays a lonely, obsessed nerd to the hilt and manages to make him somewhat sympathetic. Not many actors can do that nowadays.

Second is the writing. Eric's world is populated by a lot of assholes, just like real life. They seem almost like people you would meet every day, and the dialogue is pretty nice as well, with plenty of classic movie quotes thrown in at precisely the right moments for a clever effect. Also, the gimmick of a film-themed slasher will cause anybody to wonder how this turns out.

Thirdly, the film buff factor. Film buffs will be delighted to know that they are not the worst case scenario (I know I was relieved), and will also enjoy the film clips featured as well as plenty of movie references.

The flaws? While Thomerson and Gilford are good in their roles, they feel like padding. You could cut back on their scenes and have more time to spend with our protagonist in order to really flesh him out. A shame.

The final product, however, is still a pretty good, sobering character study. I recommend it to anyone who's willing to take the time to watch.
Dennis Christopher's performance, the writing, film buffs will love it.

Thomerson and Gilford's subplot feels a bit like padding.
Rewind Rating
The Movie Data
Jump To: Music & Soundtrack Vibes
Or use the menu to navigate
1980 American Cinema Releasing
1999-2020 fast-rewind.com
V4_27 Powered by Rewind C21 CMS