REWIND
REVIEW
Ladies and Gentlemen, The Fabulous Stains!
"
These girls created themselves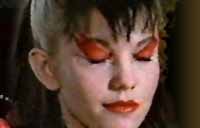 Starring
Diane Lane, Ray Winstone, Peter Donat, David Clennon
Laura Dern, John Lehne, Cynthia Sikes, Marin Kanter, Fee Waybill, Paul Cook, Steve Jones, Barry Ford, Paul Simonon, Vince Welnick, Christine Lahti Update Cast
What might have been the last major theater screening of LADIES AND GENTLEMEN; THE FABULOUS STAINS! ever was at the Landmark's Nuart Theatre in West L.A. on Friday, November 18, 2005 at midnight. The Nuart has been a longtime champion of this movie, playing it usually once every two years since 2001, but word on the street is that the only surviving print is on its last legs, so this could have been the last time it will be seen in a theatre...
More Trivia from Ladies and Gentlemen, The Fabulous Stains!
Review
Ladies and Gentlemen: The Fabulous Stains! was one of the first films Diane Lane and Laura Dern starred in. It was shot in scenic Vancouver, BC. It also starred Ray Winstone who was famous at that time for a TV series in the UK and most known for his work in the film Quadrophenia. Fee Waybill of The Tubes also starred as well as Paul Cook and Steve Jones of The Sex Pistols and Paul Simonon from The Clash.

The film features a group of 3 runaway teens who form a band and join a musical bus tour who's headliners include a heavy metal band and a punk band. They sold out and created 'looks' for young teens to emulate, not unlike what happened with the Madonna wannabees in real life a few years later.

The film was shot in 1981 then was shelved by Paramount. It played at the Film Forum theater in NYC in 1984 and ran on Cinemax in 1986. After that it fell into obscurity circulating only via bootleg copies amongst avid fans till it became a huge cult hit underground. VH1 aired it on their Movies That Rock series in 2001. To this day it has never been offically released by Paramount Pictures to home video/DVD.

Laura Dern underplayed her involvement with the film until she ran into Courtney Love at a party where Love gushed about the film saying it inspired many young girls in the musical genre of 'Grrl Bands'.

Fee Waybill was quoted as being shocked this movie was never released and hence his movie stardom never taking off. It remains a mystery why the studio sat on this picture considering the reponse it received by young audiences who actually got to see it.

It also started the career of Debbie Rochon, an actress who went on to star in over a 100 independent, mostly horror, movies.
Author:
Gary Paul
Update This Review
Verdict
I score "Ladies and Gentlemen: The Fabulous Stains!" as 8.5

This is a movie that deserves to see the light of day and really embodies the 80's decade.

Plenty of bootleggers are making a tidy living from copies made from cable TV broadcasts. Here's hoping that Paramount follow up on the threats of releasing it in a nice crisp new DVD format.
This film has many 'firsts' for the cast. It parodies the media, the girl band genre and the music industry. A real gem with great performances.

There are a couple of the performances in the film that are weak thus making the ultimate experience a little uneven.
Rewind Rating
The Movie Data
Jump To: Music & Soundtrack Vibes
Or use the menu to navigate
1981 Paramount Pictures
1999-2020 fast-rewind.com
V4_27 Powered by Rewind C21 CMS