REWIND
REVIEW

"
If You're Lying... I'll Be Back.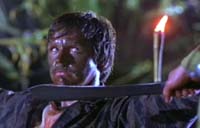 Starring
Christopher George, Samantha Eggar, Robert Ginty, Steve James
Tony DiBenedetto, Dick Boccelli, Patrick Farrelly (II), Michele Harrell, David Lipman, Cindy Wilks, Dennis Boutsikaris, Roger Grimsby, Judy Licht, Stan Getz, George Cheung, Phil Chong, Bill Saito, Kenny Endoso, John Halik, Kirk Dangler Update Cast
In order to achieve the gruesome reality of the beheading in the Vietnam scene, an entire animated body, complete with graphic facial expressions was built.
More Making Of The Exterminator
Review
Shot mostly on location in New York City, this 80's cult classic tells the story of John Eastland (Ginty), ex-Vietnam veteran turned avenging vigilante.

The opening scenes of the film in Vietnam, which were shot in Indian Dunes desert, just outside Palm Springs California, show Eastland and his friend Michael Jefferson (James) being captured by the Viet-Kong.

The subsequent beheading of a fellow member of their unit, as their captors interrogate for information is one of the most brutally realistic scenes in cinema. In the aftermath of the decapitation Jefferson takes his chance with the distracted guards and saves Eastland's life, by first garroting one guard then mowing down the rest with an M60.

The troops then escape in helicopters soaring against a backdrop of huge explosions. We next see the friends working in a packing factory in New York. Eastland pops down to drop off a delivery in one of the store rooms as a favour for Jefferson, but walks in on a gang of hoodlums who are stealing it's contents, they quickly put a knife to his throat. Jefferson comes to see where his errand friend has gone, upon assessing the situation he quickly disarms and takes out the would be thieves and rescues Eastland... again.

Jefferson is later cornered by the hoodlums and sickeningly beaten and left paralysed by the attack. Swearing revenge Eastland grabs his trusty M16 and hunts them down and avenges his friend. This taste of justice now leaves Eastland with a moral agenda as he begins to clean up New York's underworld, by taking out a 'gloriously overblown' beef magnate and Mafia don (Boccelli), a seedy pimp (Benedetto), his perverted client and some gutless muggers.

Adopting the Exterminator handle as his calling card, Eastland informs the press of his actions. Pursued by Christopher George's NYPD detective and the CIA he is tracked down to a final confrontation in a deserted shipping yard.
Author:
Stuart Fitzgerald
Update This Review
Verdict
The story of The Exterminator derives from the exaggeration of everyday urban crime scenarios where the protagonist takes the law into their own hands and hits back with intense retribution. These type of films (see also Taxi Driver, Death Wish, Assault On Precinct 13, The Road Warrior & First Blood) were very popular in the mid 70's and early 80's.

Robert Ginty is excellent as the 'everyday man' pushed to vigilantism by a cruel and violent world... the bad guys are enjoyable risible and Christopher George puts in a smooth performance as he pursues both The Exterminator and with more success, the sexy assured Doctor played by Samantha Eggar. The Exterminator lacks the pace of contemporary action films, instead greater emphasis is given to the drama of the characters, this gives the film realism which is so often lacking in films of this genre. Another early 80's classic!
TBA

TBA
Rewind Rating
The Movie Data
Key Crew
Director: James Glickenhaus
Writer: James Glickenhaus
Producers: Lester Berman, Mark Buntzman
Locations Manager: Nan L. Bernstein
Update The Crew
The Movie Trailer
Jump To: Music & Soundtrack Vibes
Or use the menu to navigate
1980 Interstar Corporation
1999-2020 fast-rewind.com
V4_27 Powered by Rewind C21 CMS